A business founded by BBA students chosen by InnoCité MTL
October 24, 2016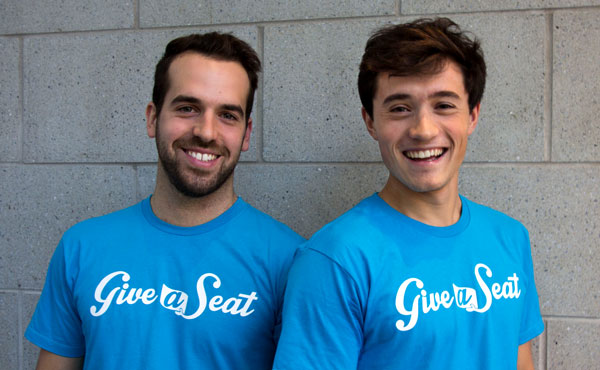 The
InnoCité MTL accelerator
has chosen
Give-a-Seat
for its latest cohort of promising startups. The young company is the brainchild of co-founders Guillaume Campeau and Théo Corboliou (BBA), who have just completed the
Rémi Marcoux Entrepreneurial Track
.
Give-a-Seat is a platform for selling show and sporting event tickets to benefit charitable organizations.
"We came up with the idea during our entrepreneurship specialization in the BBA program," explains Guillaume. "We realized that there were unsold tickets for events and unused corporate seats. We felt that there had to be a way for those tickets not to go to waste."
The company plans to sell discount tickets donated by event organizers and sponsors, with the proceeds going to the charity of their choice.
The two co-founders continued to develop their idea as they took part in the Rémi-Marcoux Track in 2016. Théo and Guillaume explain that it gave them a chance to meet other entrepreneurs, exponentially expand their network, and receive very concrete coaching on advancing their business plan.
The next step is to make Give-a-Seat a fixture in Quebec.
"We want to get past the validation stage for our business model and solidly establish our company, and show that it addresses a real problem," says Théo. "We're looking to scale it up. Here in Montréal and elsewhere."
InnoCité MTL, a partner of the City of Montréal, selects market-ready startups whose urban innovations improve Montrealers' quality of life. Its criteria include the quality of the business plan, growth potential and the applicability of the solutions to urban issues.