First study of business energy management in Quebec
October 28, 2015
How do Quebec business leaders view energy management? How important is it for them? Are they concerned about environmental issues? That's the kind of questions addressed in a study released today by the HEC Montréal Chair in Energy Sector Management, entitled Gestion stratégique de l'énergie en entreprise au Québec.
"Although 67% of the energy consumed in Quebec is for industrial, commercial and institutional uses, no study has ever been done of how this energy is managed," says Chairholder Pierre-Olivier Pineau. "It seemed essential to us to paint a portrait of the situation, at a time when the Quebec government is about to announce a new energy policy for 2016-2025 and where businesses are under growing pressure to reduce their greenhouse gas emissions."
The survey was conducted by the Chair in Energy Sector Management, in co-operation with e3 Hub HEC Montréal, the Institut du Québec, the Conseil du patronat du Québec and the Fédération des chambres de commerce du Québec. The study of medium-size and large businesses and organizations in Quebec is intended to better understand business leaders' perceptions of energy management and Quebec's energy policies, and the importance of these factors in their decision-making processes and strategic planning. The findings will provide valuable food for thought, to help overcome the obstacles that prevent them from fully benefiting from better energy management.
Some highlights:
Energy efficiency and greenhouse gas reduction programs are a priority for the Quebec government, but the paradox of abundant, low-cost energy creates challenges for strategic energy management.
Climate change policies are seen more as opportunities than threats, even if they are often misunderstood by businesses.
Most Quebec businesses and organizations aren't very familiar with carbon trading and the Fonds vert.
Lower costs, a better reputation and enhanced long-term competitiveness are the main benefits of an energy strategy, while the perceived risks are related to higher and more volatile energy prices and to environmental and social constraints.
"This study has shown us that in Quebec, energy management is still too much at the operational level, while this issue is going to become a more strategic question in the new market reality," maintains Professor Pineau. "Environmental, social and geopolitical constraints will add an economic imperative that managers don't seem to have properly anticipated."
While organizations can make efforts to better manage their consumption, they still need financial support and the means to develop expertise and achieve their objectives as effectively as possible.
"Government energy policies have to be more consistent and predictable, as do policies in related areas – environment, economic development, transportation, building/housing and land development," recommends Pineau. "The results of this study show the importance of gearing government aims more closely to business needs, especially in terms of training and energy efficiency programs, so that businesses can acquire the expertise they need to manage energy more strategically. This is essential if Quebec is to become a leader in energy efficiency and reducing greenhouse gas emissions by 2050."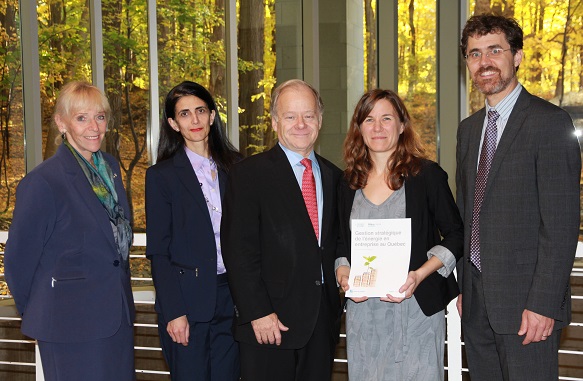 Françoise Bertrand, President and Chief Executive Officer, Fédération des chambres de commerce du Québec; Norma Kozhaya, Vice-President – Research and Senior Economist, Conseil du patronat; Raymond Bachand, President, Institut du Québec; Johanne Whitmore, Coauthor of the Study; Pierre-Olivier Pineau, Professor, Holder of the Chair in Energy Sector Management and Coauthor of the Study. Photo: Gabrielle Lamothe, HEC Montréal.