A fruitful summer for our young entrepreneurs!
August 3, 2015
Several young HEC Montréal graduates showed off their entrepreneurial skills this summer. First of all, at the 17th edition of the Concours québécois en entrepreneuriat, with nearly 45,000 participants, no fewer than three new businesses created by our graduates took awards for their daring and determination.
Elizabeth Stefanka (MSc 2014) was awarded the grand prize for young entrepreneurs and the "favourite" award for women entrepreneurs, for Stefanka Lingerie, specializing in creating customized brassieres using 3D technology.
Anne-Sophie Riopel-Bouvier (BBA 2014), a graduate of the Rémi Marcoux Entrepreneurial Track and the National Bank – HEC Montréal Accelerator program, took first prize in the business services category. Her company, Exo Tactik, created with Stéphane Bouvier, offers specialized aerial support for public security.
The second prize in this category also went to one of our grads, Félix Normandin (BBA 2011), for his electric vehicle rental business, EEKO Logical Car Rental, which he founded with Philippe Louisseize.
Lastly, Nicolas Libedinsky (BBA 2014), also a graduate of the Rémi Marcoux Entrepreneurial Track and the National Bank – HEC Montréal Accelerator program, and his co-founder Xavier Laurin, took the Montreal finals in the "pitch" competition held by 33entrepreneurs, a European investment fund and business accelerator, in the Wines and Spirits category. Their application, Les Bouchons, advises users on their wine purchases. Their victory sends them to the North American finals in San Francisco, in October 2015, where they will compete for a $100,000 grand prize.
Congratulations to everyone!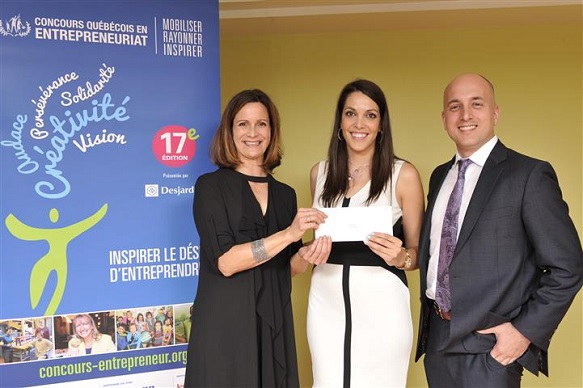 Diane Lapointe, Manager, Brand Management and Marketing Communication, Gaz Métro, winner Elizabeth Stefanka and Frédéric Déry, Vice-President, Sales and Marketing, Videotron Business Services.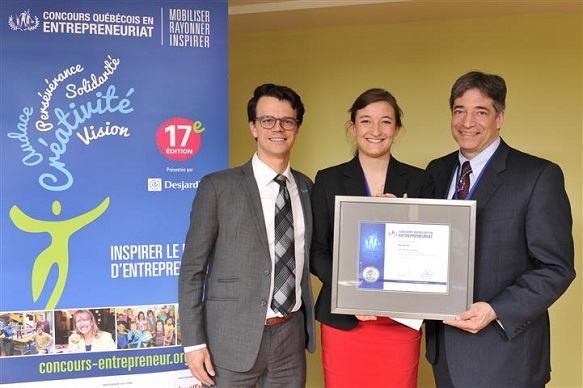 Sébastien Gagnon, CPA, CMA, Senior Vice-President, Regroupement des CPA du Québec, with winners Anne-Sophie Riopel-Bouvier and Stéphane Bouvier.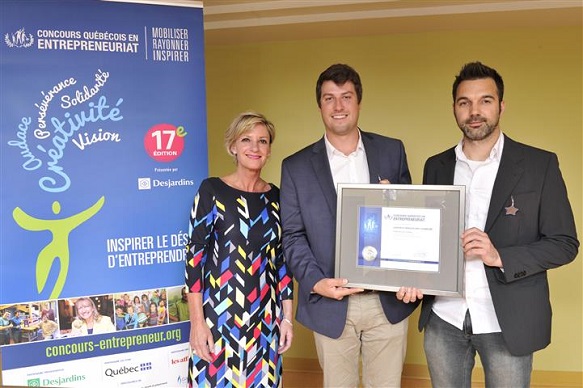 Caroline St-Jacques, Executive Director, Public Affairs and Community Relations for Quebec City, Caisse de dépôt et placement du Québec, with the co-founders of EEKO Logiques inc., Félix Normandin and Philippe Louisseize.
Photos: Québec Entrepreneurship Contest.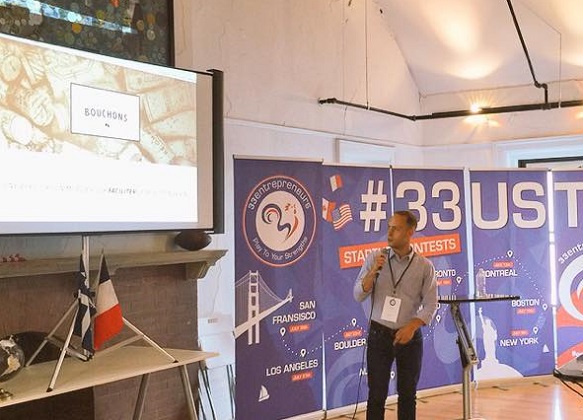 Nicolas Libedinsky, co-founder of Les Bouchons. Photo: 33entrepreneurs.