Centraide: HEC Montréal wins the award for the best employee campaign – public sector!
April 24, 2015
At the Centraide Distinctions recognition evening on April 23, HEC Montréal received the award for the best employee campaign – public sector. These "Solidaires" awards honour companies, organizations and unions that support Centraide for their leadership and social involvement. They are a tribute to the exceptional support by these partners and their volunteers to the success of the annual subscription campaign.
HEC Montréal has been supporting the Centraide cause for many years now. The 2014 campaign at the School, chaired by Professor Jacques Raynauld (Applied Economics), raised over $140,000. Last year's campaign saw some new approaches introduced to appeal more personally to members of the HEC Montréal community and create more sympathy for the cause. The result was an appreciable increase in the amounts raised and the number of leaders convinced.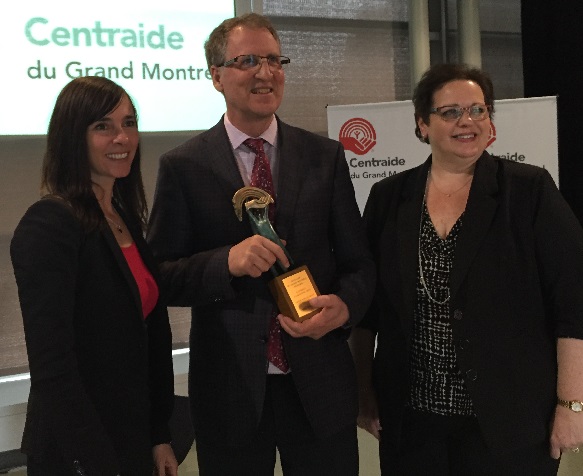 Mélanie Gagnon, Director, Corporate Donations, HEC Montréal Foundation, Jacques Raynauld and Sylvie Lacroix, Activity Officer, Human Resources Department.