The Tax Executives Institute rewards Marguerite Auclair for her outstanding academic achievement
December 11, 2015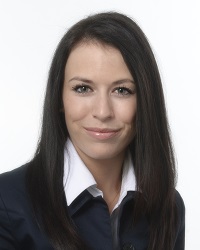 Marguerite Auclair, a student in the Master of Laws, Taxation option (LLM) program, has received a $1,500 scholarship from the Tax Executives Institute for earning the top GPA in her year.
Marguerite holds a Bachelor of Laws degree from the Université de Sherbrooke, where she was in the co-op program. She was admitted to the Quebec Bar in 2009 and was in private practice for almost three years. She is currently completing her Master's degree at HEC Montréal. In the fall of 2014, she joined the Tax division of KPMG, where she practises in Canadian and international law.
Her supervised study project concerns the international exchange of information since the days of the League of Nations, and looks at the new standard governing the automatic exchange of information adopted by the Organisation for Economic Co-operation and Development (OECD).
Congratulations!
Photo: Dunton Rainville, s.e.n.c.r.l.