The International Advisory Board rewards Julien Robert for excellence
October 23, 2015
At its annual meeting on October 22, the HEC Montréal International Advisory Board (IAB) saluted the excellence of Julien Robert, a student in the Trilingual BBA program, by awarding him the BMO Financial Group scholarship. This award has been presented annually since 2011 to a candidate who shows outstanding language proficiency and has an exceptional academic record.
Julien is a third-year student in the Trilingual BBA (joint option: Management Sciences/Information Technologies), with a remarkable GPA of 4.13 out of 4.3. He recently returned from an exchange program at the Universidad de San Andrés, in Buenos Aires, made the 2014-2015 Honour Roll for his program and has received four citations of excellence since starting his BBA. He is also actively involved in student life, including as Vice-President, Consulting, of the Club de consultation en management.
After completing his studies, in addition to teaching part-time, he hopes to work in operational research and business intelligence and to play an important role in optimal decision making within a company, as a consultant or by piloting a global solutions strategy.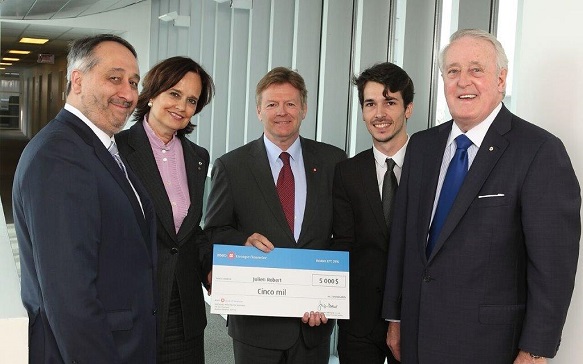 Michel Patry, Director of HEC Montréal; Hélène Desmarais, Chairperson of the School's Board of Directors; Claude Gagnon, MBA, Adm. A., Executive Director, Operations and Executive Assistant to the President of the BMO Nesbitt Burns Board of Directors, and to the President of the BMO Financial Group, Quebec; Julien Robert, winner of the scholarship; Brian Mulroney. Photo: Jean Martin.