Protéine Alternative charmed the public of "Your ideas are good business" Contest
May 5, 2015
Protéine Alternative charmed the public of "Your ideas are good business" Contest , an initiative of Fondation Montréal Inc., presented by National Bank. Co-founded by Emmanuelle Sansfaçon (a student in the D.E.S.S. en gestion et développement durable program, as well as a graduate from the BBA and Certificate in Project Management), Marie-France Lavallière (a graduate from the Personalized Certificate in Administration and the D.E.S.S. en gestion), together with Éric Fafard, Jérémie Marcotte, Véronique Moniz and David Sansfaçon, this company, which produces organic alternative protein sources from insects, won the Audience Award.
Held from March 5 to April 17, this contest aims to promote entrepreneurship on university campuses in Montreal and to unearth students and graduates with promising business ideas to foster company start-ups. Some fifty projects were submitted to the contest. Out of that, on top of the Audience Award, 10 entries were selected for the Grand Finale on April 30 where entrants presented their projects on stage.
In addition to Protéine Alternative winning the Audience Award, several other students from the School also entered a project in the contest, two of which have been selected among the 10 finalists:  
Nicholas Belliveau (BBA) with Bootiq, an online sales platform for footwear, which ensures the selection of the right size and fit.
Nicolas Bon (BBA) with Maison Kané, which provides vinyl pressing to re-experience music on the good old LP format.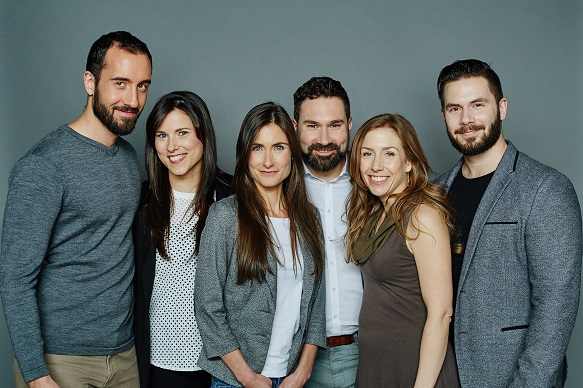 The six co-founders of Protéine Alternative: Éric Fafard, Véronique Moniz, Emmanuelle Sansfaçon, David Sansfaçon, Marie-France Lavallière, and Jérémie Marcotte.
Photo: Jeremy Bobrow