Justine Bergeron awarded one of the Women in Finance Scholarships from the National Bank
June 29, 2015
MSc student Justine Bergeron (Finance specialization) is one of the three winners of the National Bank's Women in Finance scholarship program, intended to reward female students who have shown a strong interest in pursuing a career on financial markets.
In addition to a $10,000 scholarship, Justine will also have the opportunity to learn more about this field and about the National Bank, thanks to an internship and mentoring.
Congratulations!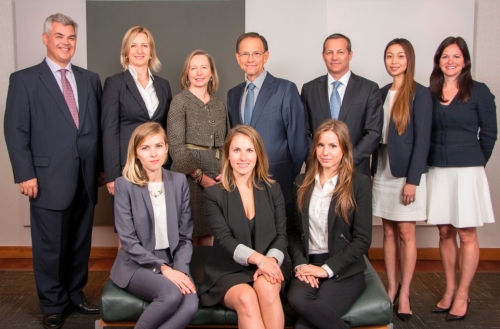 Executive Vice-President, Financial Markets, Ricardo Pascoe (centre), is flanked by members of the Financial Markets Management Committee and staff, Brian Davis, Beata Swist, Susan Monteith, Sean St. John, Sandy Lam and Isabelle Paquet, with the 3 recipients of the sixth edition seated: Sarah Brown, Pascale Venne, and Justine Bergeron.