Gabriel Cousineau: Carabins athlete of the year
April 1, 2015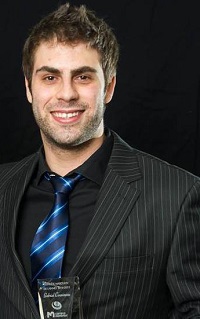 Quarterback Gabriel Cousineau, a Bachelor's in Business Administration (BBA) student, was proclaimed male athlete of the year at the Université de Montréal Carabins Méritas Gala on March 27.  
The HEC Montréal student led his team to its first Vanier Cup at the 50th edition of the national finals, held for the first time in Montreal. A member of the provincial all-star squad, the 23-year old player from Laval had a 71.9% pass completion rate, the third-best performance in Canadian history.

Other BBA students from the School were also saluted at the Carabins Gala. First of all, offensive lineman Alexandre Laganière won the Méritas Leadership award in recognition of his combination of sports, academics and community involvement. Iannick Lamarre was named athlete of the year on the golf team, for the second straight year, and Chloé Lafaix won athlete of the year on the tennis team. Among the recruits, hockey player Jessica Cormier and football wide receiver Régis Cibasu earned awards in team sports.
Congratulations to all these student athletes!
Photo: James Hajjar Photographe