2015 Sustainability Challenge: HEC Montréal delegation takes 3rd place
March 23, 2015
The HEC Montréal delegation of Megan Jane Armitage, Marco D'Angelo, Olga Minikh and Justin Alexander Rotondo distinguished themselves in the 2015 Sustainability Challenge, held at the School on March 20. The four MBA students took third place in this case competition, now in its 6th year.
Nine teams took part in this event giving MBA students from across Canada and abroad a unique opportunity to put their talents and skills to the test. Since 2010, the event has challenged students to come up with practical solutions to complex business cases dealing with the role of sustainable development in business.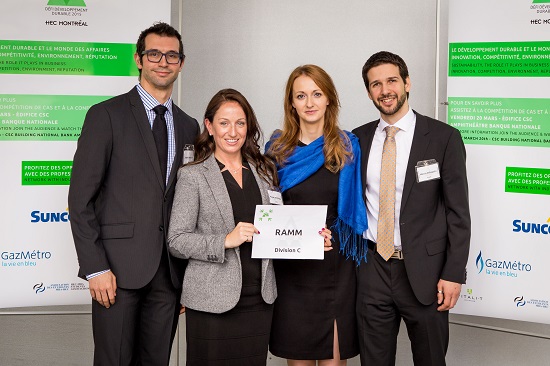 Justin Alexander Rotondo, Megan Jane Armitage, Olga Minikh and Marco D'Angelo.
Photo: Stefano Banchero