Francine Lelièvre wins the 2015 Cultural Management Award
September 9, 2015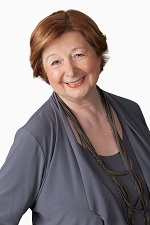 Francine Lelièvre, founder and Executive Director of Pointe-à-Callière, the Montréal Museum of Archaeology and History, has won the Cultural Management Award for 2015. The award, now in its third edition, was presented to her yesterday, along with a cash prize of $5,000, by the HEC Montréal Carmelle and Rémi Marcoux Chair in Arts Management.
A graduate of the Université de Montréal in history and education, Ms. Lelièvre went on to complete a Master's degree in history at Université Laval in 1972, before beginning her career with Parks Canada at the new Forillon Park, in the Gaspé Peninsula. In 1982 she became a project manager, then a service manager for 3 national parks, 26 national historic sites and 4 national historic canals. In 1986 she joined the Musée de la civilisation as Director of Exhibitions. The following year, she founded her own consulting firm for museum and cultural programs and construction projects, working in both Quebec and Europe.
In 1989, she headed up a feasibility study for the future Pointe-à-Callière museum, and went on oversee all the work leading to the opening of the new museum of archaeology and history in 1992. She is not only the Museum's founder but has served as its Executive Director for the past 24 years. Since 2000, she has been directing Phase II of its expansion, which will involve restoring and integrating about 10 historic buildings and sites in Old Montréal.
Throughout her career, Francine Lelièvre has had a major impact on the development of museology in Quebec. She is both a cultural manager and a visionary: while with Parks Canada, she introduced the concept of a "cultural landscape"; at the Louis-S. St-Laurent National Historic Site, she organized the first multimedia show in Canada, which also earned her a reputation as a pioneer in the use of technology to showcase archaeological sites. As a woman of action, she has given Montreal a unique legacy, an institution that has seen its annual attendance rise from 150,000 when it opened to 400,000 today, and its endowment fund grow to $10 million.
In presenting the Cultural Management Award to Ms. Lelièvre, the jury emphasized the winner's "exemplary career and the unique positioning she has achieved for a museum of history and archaeology on the international scene. By creating this new museum complex, she has preserved for future generations a site of unique importance for our heritage, while attracting young people and members of cultural communities through innovative presentations. By mounting exhibitions on Montréal's different neighbourhoods and hosting major international exhibitions, she has built bridges between citizen culture and the image and renown of our cultural metropolis. Lastly, she has managed to bring people to appreciate archaeology, a field formerly unknown to many Montrealers."
The jury also praised Ms. Lelièvre's community involvement: she chaired the Board of Montreal Museum Directors from 1997 to 2002 and is a member of the architecture committee of the Society for the Celebration of Montreal's 375th Anniversary.
The jury of peers consisted of:
François Bédard, General Manager, Festival international de Lanaudière, and winner of the Cultural Management Award in 2011
Claude Benoit, Chair, former CEO, Old Port of Montréal Corporation
François Colbert, holder of the Carmelle and Rémi Marcoux Chair in Arts Management at HEC Montréal
Antoine Del Busso, Executive Director, Presses de l'Université de Montréal
Mario Fortin, President and CEO of Cinéma Beaubien, and winner of the Cultural Management Award in 2012
Marc Lalonde, Executive Director, National Circus School
Nathalie Marcoux, Vice-President, Finance, Capinabel inc., and member of the Board of Directors, Transcontinental Inc.
Louise Poulin, President, ArtExpert.ca
Francine Lelièvre was nominated for the award by Diane Giard, Executive Vice-President, Personal and Commercial Banking, National Bank.
Photo: Marcie Richstone