Praise and encouragement for two of the School's student athletes
Saputo Scholarship Program
March 11, 2020
Two students pursuing high-level athletic careers in addition to their studies at HEC Montréal received scholarships supporting excellence in academics and sports at a ceremony held on February 18 in Montréal.
Louis Krieber-Gagnon and Pierre-Luc Poulin both received $4,000 through the 20th annual Saputo Scholarship Program, a joint program of dairy company Saputo Inc. and the Fondation de l'athlète d'excellence du Québec (FAEQ).
Krieber-Gagnon and Poulin are two of 51 student athletes to receive scholarships this year in recognition of their academic or athletic performance, and to support the balance between school and sports.
About Louis Krieber-Gagnon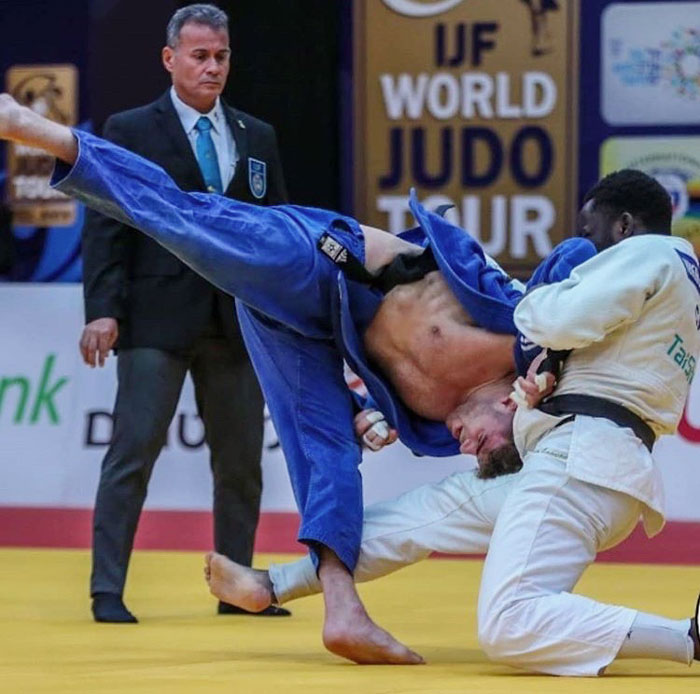 Louis Krieber-Gagnon (right)
Study program: certificat en finance d'entreprises
Sport: judo (-90 kg)
Some athletic highlights from last year:
Gold medal at the Canadian Elite 8 Championship in January 2019 and the 2019 Quebec and Ontario Opens
7th place at the 2019 Montréal Grand Prix
About Pierre-Luc Poulin
Pierre-Luc Poulin
Study program: certificat en finance d'entreprises
Sport: canoe-kayak sprint
Some athletic highlights from last year:
Helped qualify Canada in the K4 500 m for the Tokyo 2020 Summer Olympics
4th place in the K4 500 m at the World Cup in Poznan, Poland in 2019