Studint: a platform to help integrate newcomers
The project by Omar Chahed and Jordan Mathieu wins an award
July 9, 2019
Omar Chahed, in his last year of the Bachelor's in Business Administration (BBA), and his teammate Jordan Mathieu, a Université de Montréal student, won the Université de Montréal graduate investment fund award (FICSUM), worth $5,000, in the 2019 Innovinc. RBC – Concrétisez competition held by the Centre d'entrepreneuriat Poly-UdeM.
The project, dubbed Studint, consists of a Web platform (now in beta testing) offering centralized, online services to help newcomers and international students get a foothold in their host city.
After answering a short questionnaire, users can conduct a customized search allowing them to handle all steps in getting settled, before they arrive (looking for housing or roommates, opening a bank account, selecting furniture, choosing an Internet package, etc.), free of charge and in less than 48 hours.
The award money will be put toward finalizing the platform and officially launching it on July 25 of this year.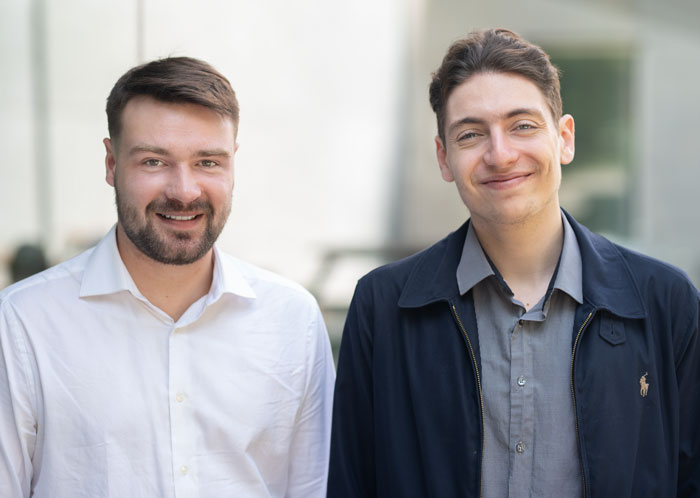 Jordan Mathieu and Omar Chahed.
About the competition

The Innovinc. RBC − Concrétisez competition, now in its third year, gives participants four months of personalized support from entrepreneurship experts. The goal is to come up with a business plan in order to get their business up and running. The support includes personalized coaching sessions, discussion evenings on specific themes, and networking activities.
The last round of the competition, on June 12, consisted of a final presentation to a jury. Participants were judged on the quality of their business plans and their attendance at competition activities. More specifically, the FICSUMaward goes to a project intended mainly to improve quality of life for Université de Montréal graduate students.