HEC Montréal signs partnership agreement with ESAN University in Peru
New OLM training program for Peruvian managers and executives
November 20, 2019
HEC Montréal and ESAN University in Peru have just signed an agreement regarding a new operations and logistics management (OLM) training program for managers and executives.
The joint program will help participants strengthen their OLM skills so they are better able to address the challenges and needs they face in their organizations. Responsibility for providing the training program, which is divided into six modules of 18 hours each, will be shared equally by HEC Montréal and ESAN, and the courses will be given in Spanish. Participants who complete the program will receive a certificate cosigned by the two institutions.
Representing HEC Montréal, professors Claudia Rebolledo and Jorge Mendoza Gimenez, along with HEC Montréal graduate and now postdoctoral researcher Maricela C. Arellano Caro, will teach in Lima in the spring of 2020.
This first agreement opens the door to other possible joint ventures with ESAN University.
The partnership agreement was signed during a mission to South America from October 13 to 25 by Director of International Relations and Partnerships Marie-Hélène Jobin and Director of International Activities and Student Mobility Agnès Darmaillacq. During their trips to Chile, Colombia and Peru, they arranged more meetings with university and government partners with a view to entering into new agreements and raising HEC Montréal's profile in the region.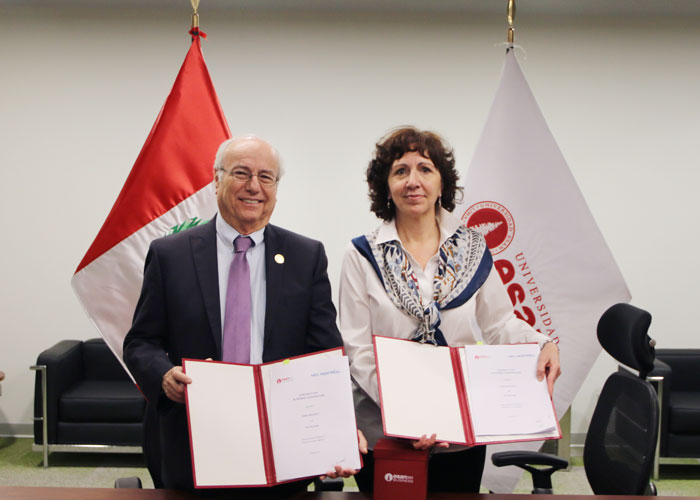 ESAN University President, Jorge Talavera Traverso and HEC Montréal Director of International Relations and Partnerships, Marie-Hélène Jobin.