HEC Montréal Wins the 2018 Financial Open
February 8, 2018
The HEC Montréal delegation took first place in the Overall Ranking category of the 2018 Financial Open. This 12th edition of the Open took place from February 2 to 4 at the Université du Québec à Chicoutimi. The Financial Open is an interuniversity finance and accounting competition. This year, more than 300 students from 9 Quebec universities participated.
Here are the HEC Montréal delegation's results by discipline:
| | |
| --- | --- |
| Discipline | Ranking |
| Corporate Finance | 1st |
| Overall Ranking | 1st |
| Market Finance | 3rd |
| Management Accounting | 2nd |
| Taxation | 2nd |
| Financial Accounting | 1st |
| Most Valuable Player (MVP) – News Quiz | Norman Bloch |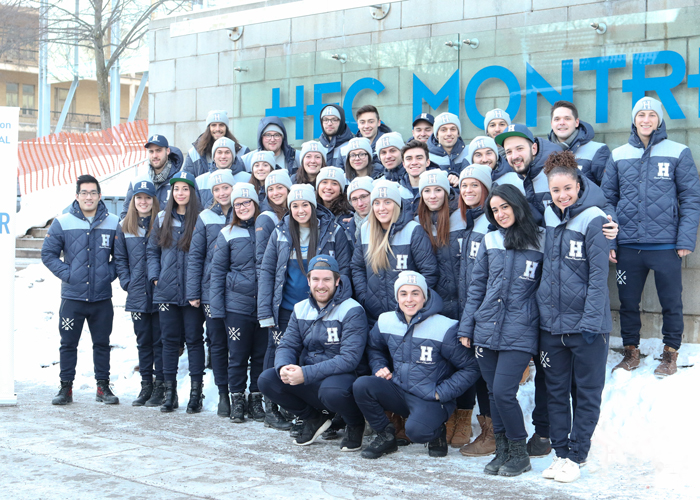 Photo : Association Radio Vidéo
The delegation was composed of 34 students:
Management Accounting: Étienne Fournier, Chanelle Soucy and Camille Lavictoire-Boulianne
Financial Accounting: Sébastien Chung, François D'Anjou and Sonia Molleyres
CFA Ethics Challenge: Patrick Cimon, Kaileigh Hamilton-Browne and Bruno Letarte
Corporate Finance: Aurélie Desjardins-Michaud, Jordan Di Corpo and Mathieu Cloutier
Market Finance: Alexandre Minville, Jean-Sébastien Gagnier and Pierre-Hugues Forest-Le Sieur
Personal Financial Planning: Mabéty Conté-Desjardins, Stéphanie Rondeau and Thomas Lachance
Taxation: Marika Dupont, Alexia Audet and Tinhinane Ferrat
Stock Exchange Simulation: William Beaudry, Julien Desgagne, Adam El Ghazali and Philippe Vézina-Tardif
Financial News Quiz: Gabriel Arvisais, Marianne Gélinas and Norman Bloch
Delegation Volunteers: Camille Balducchi, Léah Sfez, Brigitte Parent and Samuel Ferreira-Silva
Delegation Coordinator: Cassandra Fikler
Ambassador (delegation sponsor): Philippe Bérubé
Their trainers were:
Jean-Éric Laniel and Sammie Dubeau (Management Accounting)
Jacques Lemay (Personal Financial Planning, Market Finance, Corporate Finance and the CFA Ethics Challenge)
Alex Berthiaume and Mathieu Joubert (Taxation)
Vanessa Tremblay, Maxime Laliberté and Laurianne Leduc (Financial Accounting)
Antoine Gélinas (Financial News Quiz).
The delegation was accompanied by guest professor René Gendreau.