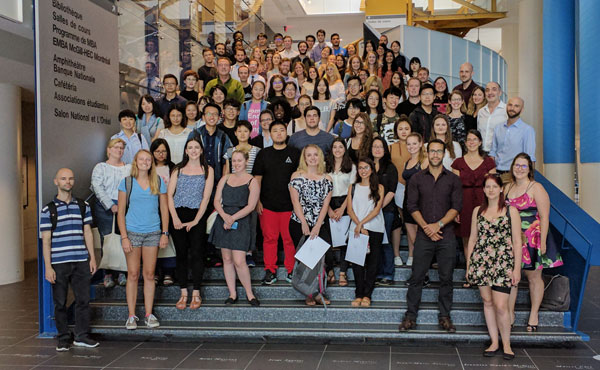 The Business French Summer School at HEC Montréal welcomed close to 85 students from 21 countries* this year between July 17 and August 11, 2017 – 60% more than in 2016.
Since the first edition in 2014, the Summer School has seen its demand climb steadily. In fact, sometimes two members of the same family sign up, as was the case this year: "The school helped Teresa and Blanca improve their French considerably," says a proud Maria Lorente, mother and aunt of two of the students from Venezuela.
HEC Montréal is the only business school in North America to offer a summer immersion program in business French. It includes lectures and seminars on themes related to establishing and managing SMBs, urban marketing and managing cultural organizations.
In addition to credit courses in business French, the program organizes meetings with local economic, cultural and community players.
"It was a terrific experience," concludes Canadian participant Jaymie Park.
"I strongly recommend the program to anyone wanting to quickly improve his or her French and who is interested in discovering life in Montréal." In 2018, the Summer School will be held from July 16 to August 10.
* Home countries: Argentina, Australia, Austria, Canada, Chile, China, Germany, Hungary, India, Mexico, Netherlands, Spain, Syrian Arab Republic, Sweden, Taiwan, Thailand, Ukraine, United Kingdom, United States, Uruguay, Venezuela.
The students could even enter a photo contest on their impressions of Montréal. The winners: