2017 income tax clinic: more than 1,200 returns completed thanks to 350 student volunteers
April 3, 2017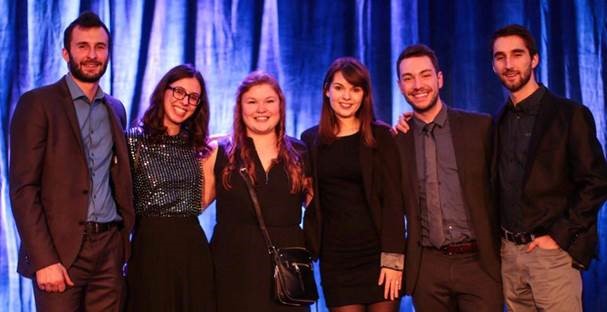 From left to right: Étienne Clément, Natalia-Camilia Hamidi, Ariane Laroche, Pauline Garnung, Stephen Bergeron, Tristan Lamarche
The 2017 HEC Montréal income tax clinic, held from March 31 to April 2, helped more than 1,200 participants complete their tax returns.
Over 350 student volunteers contributed to the success of the 31st edition of the clinic, organized by the HEC Montréal Société de relations d'affaires (SRA) with the support of the Canada Revenue Agency and Revenu Québec.
"We enjoy doing this, since it gives us a chance to provide a real community service and to help lots of people by preparing their income tax returns for free," says one of the organizers of the event, BBA student Tristan Lamarche.
The clinic assists low-income taxpayers in the Côte-des-Neiges and surrounding neighbourhoods, as well as students. It is intended for individuals with annual incomes of less than $25,000, and for families and couples with incomes under $30,000.
It is also an opportunity for HEC Montréal students to acquire some targeted tax knowledge and meet professionals in the field. A number of firms specializing in taxation sponsor the clinic and make volunteer tax experts available.