Harold Dumur, co-founder of OVA and a graduate of the Accélérateur Banque Nationale – HEC Montréal, took first place in the "Pitch Competition" at the G20 Young Entrepreneurs Alliance Summit in Beijing, China. He was up against some fifty businesses from all the G20 countries.
"At the start I thought it would just be a friendly competition, but I soon realized that the stakes were really high," says Harold Dumur. "The judges included the heads of some of China's largest investment firms, including Keytone Venture and Fosun Group, which invested in Cirque du Soleil last year."
For its part, OVA created StellarX, a virtual and augmented reality creation tool for non-programmers.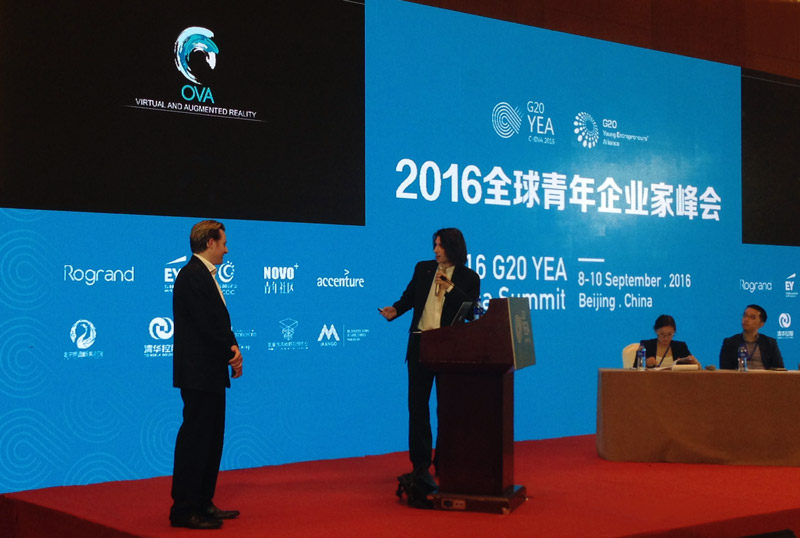 "It was really important for us, because China is the biggest market in the world for virtual reality," explains Mr. Dumur. "As a direct result of the competition, we're now in negotiations for an investment of several million dollars."
The competition was held in conjunction with the G20 Young Entrepreneurs Alliance Summit in China. A trade mission was combined with the event for some forty young Canadian entrepreneurs, including five HEC Montréal graduates.
Luis Cisneros, Director of the Institut d'entrepreneuriat Banque Nationale | HEC Montréal, was part of the Chinese tour. "The pitch competition was one of the highlights of this trip," he says. "Some of the leading companies in the G20 faced off in front of an audience of prestigious Chinese investors and entrepreneurs. With this first place finish, Harold and OVA will inspire our future generations of entrepreneurs by showing that Quebec has what it takes to produce world-class businesses."
According to Manaf Bouchentouf, Director of the Accélérateur Banque Nationale – HEC Montréal, "The G20 Young Entrepreneurs Alliance Summit is a chance for entrepreneurs to learn about other countries and business cultures. In this respect, China is a promising ecosystem both for business growth, given the size of the market, and for partnership and investment opportunities."