HEC Montréal celebrates the 20th anniversary of its Côte-Ste-Catherine building
September 23, 2016
Over 350 people gathered on Thursday to mark 20 years of university life in the building at 3000 chemin de la Côte-Sainte-Catherine, inaugurated in the fall of 1996.
This ultra-modern building, with its bold architecture and cutting-edge technology, marked the beginning of a new era when it went up 20 years ago.
"HEC Montréal was the third university in North America – and the first in Quebec – to integrate information technology into its programs," recalled HEC Montréal Director Michel Patry. "Today computers are a fact of life at all universities, but back then we were true pioneers. It required courage to take on that kind of challenge."
Photos of the construction of the 3000 chemin de la Côte-Sainte-Catherine building
Olivier Sefler, BBA 1997 and MBA 2002, was among the first students to enjoy the new facilities. His brothers, mother and spouse also all studied at HEC Montréal. For the Sefler family, it was important to celebrate the building's 20th anniversary. "HEC Montréal gave me the confidence to take on the working world," says Olivier. "My professors had very high expectations and helped me acquire the skills and knowledge I needed to handle any situation."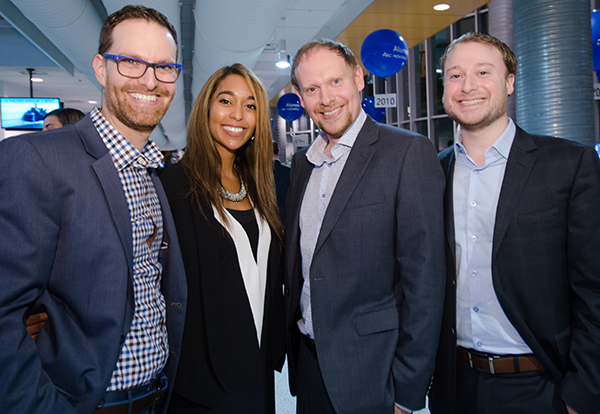 Photo : Olivier Sefler, Véronique Hébert Jean-Mary, Richard Sefler, Adam Sefler
Over the past 20 years, HEC Montréal has been home to nearly 115,000 students and some 416 professors. Today the School has 13,700 students, representing 50% in overall growth since 1996. It is a more global place, too, where the number of international students has also skyrocketed/soared, from 12% to 35% in 20 years. The gender balance, on the other hand, has not changed much: in 1996 there were already as many women as men attending the School.
Photos of the commemorative evening HEC Montréal - 20 years - Côte-Ste-Catherine building