Top HEC Montréal research and teaching awards go to Louis Jacques Filion and Jacques Desrosiers
November 12, 2015
At the School's annual award ceremony, Louis Jacques Filion and Jacques Desrosiers won the 2015 top HEC Montréal teaching and research awards, crowning the particularly noteworthy careers of individuals who have gained their peers' highest respect.
Louis Jacques Filion, winner of the Jean Guertin Award: a pioneer in the field of entrepreneurship
Professor Filion's students, colleagues and other associates are unstinting in their praise for his contributions to entrepreneurship concepts, teaching and education, both here and abroad. His commitment, professionalism and perseverance in research and teaching have made him an internationally recognized leader in this field.
A Professor in the Department of Entrepreneurship and Innovation and holder of the Rogers – J.-A.-Bombardier Chair of Entrepreneurship, Louis Jacques Filion (MBA 1976 and PhD in systems and entrepreneurship from Lancaster University in Great Britain) has influenced a generation of students through his rigorous approach, his attention to and concern for their learning, his original and refreshing way of sharing his knowledge and his availability, respect, dynamic approach and communication skills.
His enthusiasm shines through not only in his teaching, but also in the quality of the network he has built over the years and is always ready to share. He has created businesses and directed SMBs, and took part in creating the first graduate program in entrepreneurship in Canada and the Centre entrepreneurship HEC Montréal-Polytechnique-Université de Montréal.
Here at HEC Montréal, this extraordinary communicator has been deeply involved in the School's different programs and has created a host of teaching materials to support the development of some twenty courses on entrepreneurship. He also played a key role in creating the new Department of Entrepreneurship and Innovation.
Professor Filion has received numerous distinctions, including the Lifetime Achievement Award from the Canadian Council for Small Business and Entrepreneurship, the title of Wilford White Fellow from the International Council for Small Business, the Julien-Marchesnay award from the Association internationale de recherche en entrepreneuriat et PME, and the Mérite promotion de l'entrepreneuriat award from the Fédération des chambres de commerce du Québec.
In addition to speaking on the topic of entrepreneurship around the globe, he has authored or co-authored some one hundred publications and even more case studies. In fact, he is one of the most prolific authors on the subject of entrepreneurship in the French-speaking world. He is considered to have created the largest volume of French-language teaching materials in his field.
Professor Filion will retire in June 2016, but will surely continue to inspire students, teachers, professors and researchers.
Jacques Desrosiers, winner of the Pierre Laurin Award: 36 years of basic and applied research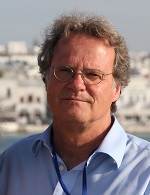 The influence, impact and relevance of the research by Professor Jacques Desrosiers (Management Sciences) in the field of transportation are remarkable. In fact, he has already won the Pierre Laurin Award three times, in 1984, 1986 and 1997.
Professor Desrosiers holds a PhD in Mathematics (1979) from the Université de Montréal. He joined HEC Montréal in 1978 and was promoted to Full Professor in 1989. In 1993, he became a partner in AD OPT Technologies, which at the time had just five employees and $300,000 in sales. Six years later, the company was listed on the Toronto Exchange; by 2004 it had grown to 200 employees and $30 million in sales.
He is a founding member of the Group for Research in Decision Analysis (GERAD) and was elected to the Royal Society of Canada in 2001. Between 2004 and 2010, he was Director of the Department of Management Sciences (now the Department of Decision Sciences).
During his career at the School, he has supervised or co-supervised more than 40 theses and dissertations. His main research interests include optimizing large vehicle-routing and work-scheduling systems in the field of transportation. His research has been supported by real-life problems, leading to fundamental theoretical and algorithmic developments that have influenced the field through some one hundred very high-level publications, with over 11,500 citations in such journals as Operations Research, Management Science, Transportation Science, and the INFORMS Journal on Computing.
Professor Desrosiers has received many prestigious distinctions from the scientific community, including the best research award, presented at the congress of the Association of European Operational Research Societies in 1983 (with Martin Desrochers and François Soumis), the Annual Practice Prize for best applied research from the Canadian Operational Research Society (twice, in 1994 and 1996), and three prestigious awards in 1997, with his colleague François Soumis: the Joseph-Armand Bombardier medal for technological innovation, from the Association francophone pour le savoir (ACFAS); the Synergy Award for Innovation, university/industry synergy from the Natural Sciences and Engineering Research Council of Canada and the Conference Board of Canada (with GIRO and AD OPT); and the Knowledge Transfer award from the Association pour le développement de la recherche industrielle du Québec (with AD OPT).