February 27, 2017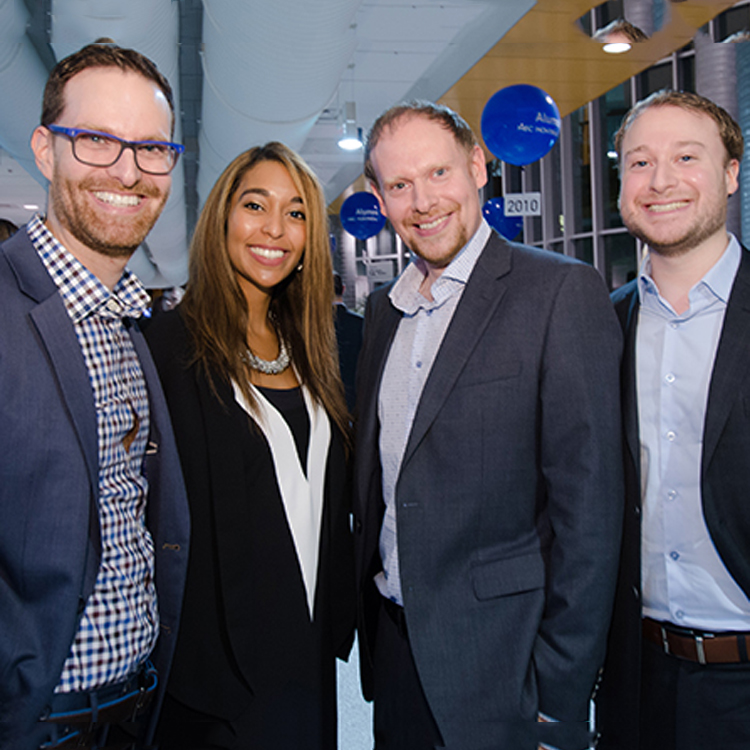 Olivier Sefler (BBA 1997 and MBA 2002)
President, HyperGraviT
Richard Sefler (MBA 2006)
Master Black Belt, McKesson Canada
Adam Sefler (BBA 2006 and DESS 2007)
Consultant, McKinsey & Company
Laurence Harabagiu (B.Gest. 2002 and MSc 2005)
Property manager, licensed real estate broker and mother of Olivier, Richard and Adam
Véronique Hébert Jean-Mary (BBA 2008)
Director of Human Resources, Alimentation Maison, and spouse of Olivier Sefler
KEEPING IT IN THE FAMILY
It all began with Olivier, the first member of the Sefler family to study at HEC Montréal. He finished his BBA in 1997 and his MBA in 2002. In fact, he was one of the first students to take advantage of the school's new facilities on Côte-Sainte-Catherine back in the day.
"We grew up in an entrepreneurially minded family," Olivier explains. "Business was part of our lives from a very young age, so it just made sense for us all to go to business school as part of our career trajectories." But when he enrolled in HEC Montréal in 1994, Olivier couldn't have imagined that his two younger brothers, his mother and even his future spouse would follow in his footsteps.
"Our individual careers have been very different, but HEC Montréal has given us a shared frame of reference," he adds. "When economic or business matters come up, we can all speak the same language."
Olivier actually crossed paths with his mother several times during the course of his studies. "It was quite something for the two of us to go through some of the same experiences – classes, finals, papers – at the same time," he remarks.
A COMPETITIVE EDGE
Richard Sefler, the oldest of the Sefler siblings, completed his part-time MBA in 2006. His business studies were a complement to his industrial engineering degree from Polytechnique , giving him a leg up on the competition in his chosen profession.
Adam Sefler, the baby of the family, says his decision to attend HEC Montréal was a no-brainer. "I already knew where I was headed by the time I was 16," he quips. He graduated in 2006 with his BBA and returned for a DESS the following year. He was also one of the first students to take part in an exchange program with HEC Paris, which remains one of his fondest memories from his time at the school.
CONNECTIONS MADE, FRIENDSHIPS FORMED
Olivier's spouse, Véronique Hébert Jean-Mary, graduated from the BBA program in 2008 and currently works in human resources management. She smiles when she thinks back to the many friends she made while contributing to several student associations. "HEC Montréal helped shape my work ethic, encouraged me to see things differently and bolstered my self-confidence," says Véronique, who was awarded an entrance scholarship for her strong academic performance.
A PROUD MOTHER AND ENTREPRENEUR
Laurence Harabagiu, mother of all three Sefler brothers, had studied economics in France in the 1970s and emigrated to Quebec in the early 1990s. She too was interested in fine-tuning her business knowledge. She started with a certificate in retail management and then completed two other certificates, which together afforded her a bachelor's degree in management sciences.
Motivated by her excellent academic results, she decided to pursue her master's in human resources management. "I'm very proud that my sons all graduated from HEC Montréal," she says, "even more so because I was able to share part of this experience with them and grow closer to them throughout the adventure, which for me spanned a 10-year period."
We'll leave the last word to Olivier: "We all share a sense of intellectual curiosity and a love of a challenge. If given a choice, we'll always take the more challenging road. That's why we all chose HEC Montréal. In fact, it's almost like you need an HEC Montréal degree to be a member of our family!"