Polytechnique Montréal décerne un doctorat honorifique à Hélène Desmarais
17 juin 2019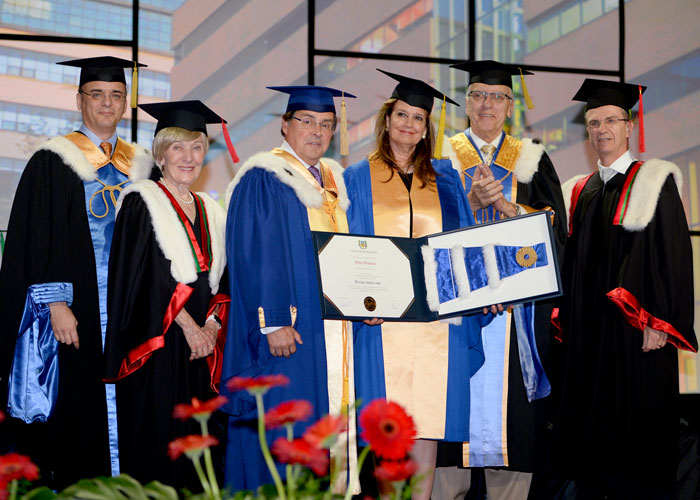 Université de Montréal (UdeM) Secretary General Alexandre Chabot; Polytechnique Montréal Principal and Chair of the Board¬ Michèle Thibodeau-DeGuire; UdeM Rector Guy Breton; Honorary Doctorate Laureate Hélène Desmarais; UdeM Chancellor Louis Roquet; Polytechnique Montréal CEO Philippe A. Tanguy.
Hélène Desmarais, Chair of the HEC Montréal Board of Directors, received an honorary PhD from Polytechnique Montréal at the engineering school's convocation ceremonies on June 14.
This distinction was awarded in recognition of her many achievements as an entrepreneur and corporate director and her important role in the Canadian business community.
Her commitment to HEC Montréal
Ms. Desmarais graduated from HEC Montréal with a degree in Finance. In 2003, she became the first woman to chair the Board of Directors of her alma mater. Since assuming that position she has worked actively to boost the School's visibility on the international scene. Over the past three years, she has made a special effort to enhance the position of HEC Montréal and other educational institutions in the new artificial intelligence (AI) industry emerging in Quebec and elsewhere in Canada.
Developing the AI industry
In 2017, she played a key role in establishing scale ai, the Canadian artificial intelligence supercluster, and its main laboratory, IVADO Labs, in collaboration with the Institute for Data Valorization (IVADO), Polytechnique Montréal, HEC Montréal, the Université de Montréal, McGill University and the University of Waterloo. As President and CEO of IVADO Labs and Co-President of scale ai, she steers the two organizations jointly with their management teams.
Ms. Desmarais is also Co-Chair of CDL-Montréal and NextAI, two of Canada's major entrepreneurship incubator programs, which she founded in Montréal. As such, she works with different business leaders to launch innovative start-ups.
An experienced director and manager
She also sits on the boards of numerous other businesses and associations, where she has the opportunity to contribute her talents as a manager and share her experience as a director. They include the Centre d'entreprises et d'innovation de Montréal (CEIM), which she founded in 1996, the Chamber of Commerce of Metropolitan Montreal and the Montreal Economic Institute.
As an entrepreneur, Ms. Desmarais chaired the Board of Directors of Gestion Bio-Capital for its first ten years. The venture fund, specializing in biotech start-ups, helped create some 20 businesses, two of them worth over $1 billion.
Awards and distinctions
Ms. Desmarais received the Queen's Jubilee Medal in 2002 and again in 2012. In addition to this most recent distinction from Polytechnique Montréal, in 2009 she was awarded honorary doctorates from St. Francis Xavier and Lumière Lyon II universities. That same year she received the Medal of Honour from the Faculty of Medicine of the Université de Montréal, along with the Order of Canada. She was declared a Great Montrealer in the economic sector and inducted into the Entrepreneurs Club of the Conseil du Patronat du Québec in 2010, and made an Officer of the Ordre national du Québec in 2013 and a Commander of the Ordre de Montréal in 2016.