Johanne Brunet finds balance in parallel careers
January 14, 2014
An excerpt from HEC Montréal Mag – Fall 2013
by Jacinthe Tremblay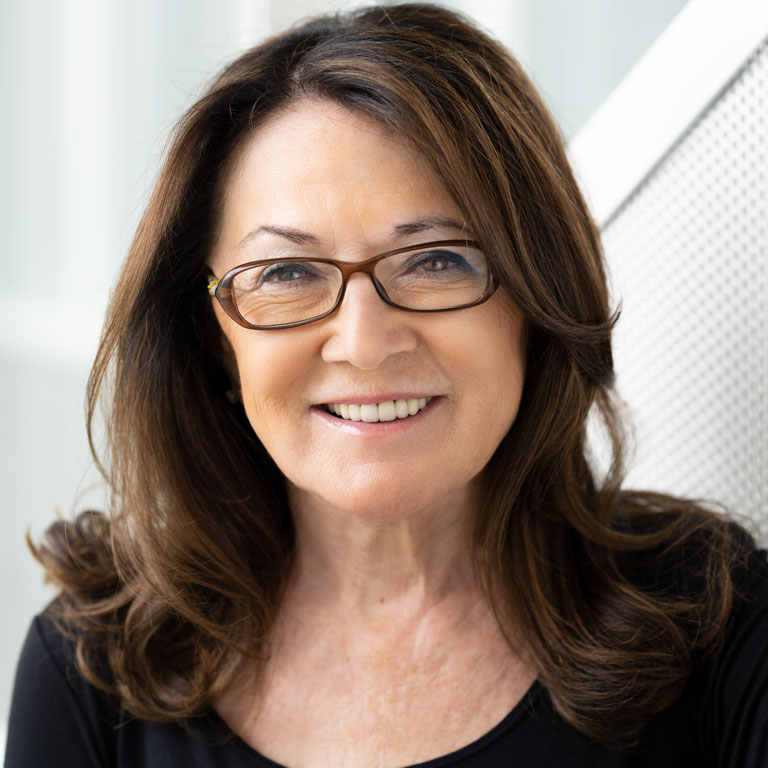 For over three decades, Associate Professor Johanne Brunet, Chair of the Marketing Department at HEC Montréal, has happily combined university studies and teaching, corporate management and administration, travel and sports. Here's a portrait of a woman whose career has been marked by her never-ending thirst for learning, and for sharing and applying her knowledge.
In September 2013, the Association des MBA du Québec paid tribute to 40 different MBAs to mark its 40th anniversary. Johanne Brunet was one of them. This was far from her first such tribute, mind you. In 1999, the Board of Trade of Metropolitan Montreal gave her its Action femmes d'affaires award. She had just been appointed Executive Vice-President of the TV5 Amériques consortium of public broadcasters, after holding a wide variety of management positions with CBC/Radio-Canada. At the same time, she was working toward a PhD in Industrial and Business Studies at the University of Warwick, in the United Kingdom.
In spring 2013, Professor Brunet was also one of the four finalists in the 2013 international Business Professor of the Year contest organized by the Economist Intelligence Unit (EIU), a subsidiary of The Economist. While completing the demanding preparations for the contest, where she was chosen over 200 other entrants, she upheld her commitments on the boards of directors of the Société des alcools du Québec, the Société d'habitation et de développement de Montréal, the Théâtre du Rideau Vert and the Academy of International Management, in London, England.
And of course she also continued to fulfill her many academic responsibilities. For she is not only a Professor and Chair of the Marketing Department, but also Co-Director of the "Catalytic Mindset" module of the EMBA McGill – HEC Montréal, an Associate Member of the Carmelle and Rémi Marcoux Chair in Arts Management and a member of the Centre d'études sur les médias, and collaborates with the HEC Montréal Media Centre.
"I've led parallel careers for many years now, in academia and the corporate world. I'm happy doing both," she explains serenely. Similarly, she reconciles her professional life with regular runs, the occasional golf game and rowing.
A lengthy journey
"I'm a woman of my time," she says, as she launches into an account of her highly unusual life, starting with a two-year-long trip around the world, after graduating from the Cégep du Vieux-Montréal. "Back then, I was thinking of studying geography, geology or oceanography at university. In the end, I decided to start out by exploring the globe." Her lengthy travels took her to a number of countries in Europe, North Africa and Asia. She spent several life-changing months in India, learning Sanskrit and meditation.
Back in Canada, she settled in Vancouver. In her various jobs, her bosses were impressed with her mathematics skills and posted her to their accounting departments. She soon enrolled at the University of British Columbia and became a chartered accountant (CGA, CPA). She quickly realized, though, that the passion she sought in life wasn't to be found in financial statements. A career counsellor helped her visualize the perfect job, which involved three key elements: working in the media field, in French and in Vancouver. Eureka! She was hired as a bilingual accountant by the Canadian Broadcasting Corporation (CBC).
For 22 years, first in Vancouver, then in Montreal, she was a supremely versatile CBC-er. Before moving over to TV5, she spent five years as Director of External Production and Program Acquisitions at Radio-Canada headquarters in Montreal. Earlier she worked in both radio and television, for both the French and English networks, including a stint as Chief of Staff for President Pierre Juneau. All the while, she was leading a double life in academia. In 1988, she completed her MBA with a specialization in Marketing and International Management at HEC Montréal, and launched her teaching career at the School as a lecturer.
She had no intention of stopping there, though, and a few years later decided to do a doctorate. "At both Radio-Canada and TV5, I saw projects that on paper looked as though they were bound to succeed, but actually ran into tremendous difficulties or even failed," she recalls. "I wanted to better understand the factors that foster creativity and innovation in the creative process for television or film production."
Her research findings led her to some conclusions that weren't far off what she had learned during her travels in India! She sums it all up by saying "Creativity, innovation – and success – are founded in balance, never in extremes. Both ultra-rigid and laissez-faire management styles get in the way. You also need balance in the workplace and in putting together teams, because creativity is a collective process."
She earned her PhD in 2000. After spending three years in the private sector and consulting, she joined the School's faculty full time. In 2010, her colleagues chose her as Chair of the Marketing Department, and she was asked to renew her term in 2013.
"In addition to her exceptional academic achievements and her professional accomplishments within one of Quebec's largest organizations, Professor Brunet has remained humble and empathetic and is always sincerely attuned to her students," wrote Ali Mahdavi in support of the 2013 Business Professor of the Year contest nomination for the professor who had supervised his Master's thesis.
The classroom seen as a gym
While she barely missed winning the title, she says that the contest encouraged her to ponder the essence of teaching more deeply. "Our role is to transfer knowledge and make sure that our students have understood it," she concludes. "We have to be interesting, of course, but if we're only interesting, then we're no more than stand-up comics."
Another recent experience encouraged her to delve even further into the question. Professor Brunet and her colleague Yannik St-James, also an Associate Professor of Marketing, produced the first course offered on the EDUlib platform launched by the School in 2012 under the aegis of the Department of Teaching Development and Innovation. Over 4,000 people from some fifty countries signed up for their free on-line course entitled Introduction au marketing. "The challenge there was to be concise and specific, since we had to condense 18 hours of content into 6 hours," she says.
No matter where or what she's teaching, Professor Brunet has the same goal: "I want to be sure that my students reflect on the different theories and practical examples I give them. I want them to hone their own judgment about business issues by forcing them to discuss things amongst themselves and to voice what they're really thinking. I see the classroom as a gymnasium: a place for training people's minds, intellect and judgment. I push my students to take risks … because there aren't any risks in the classroom."
Professor Brunet also makes a point of putting her students in direct contact with corporate life, whether it's by giving them "real" cases to study or having them carry out assignments as consultants, in teams. She has also helped organize Campus Abroad courses – immersive, on-the-ground business experiences – offered in the United States, India and Australia.
Beyond thinking about teaching, the contest run by The Economist encouraged Professor Brunet to make some connections among the facets of her rather unusual career. "Meditating in India, poring over financial statements, working in cultural industries and teaching marketing and management, it all stems from the same desire: to understand life, and to understand the planet and the humans who call it home," she concludes.