Amir Barnea, investing in the future
July 3, 2014
Excerpt from HEC Montréal Mag, Spring 2014
by Kathlyn Horibe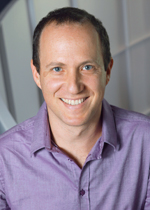 When Amir Barnea joined HEC Montréal in 2011, he knew two words in French, bonjour and au revoir, laughs the Associate Professor, Department of Finance. "The language is gorgeous. I love it and I'm investing a ton of time, two hours a day, in learning it. Some of the structure of the Hebrew language is similar to French, like the plural and the singular," says the Tel Aviv-born Canadian citizen. "We also say 'house red' and not 'red house' and conjugate by gender, but that's about it."
Committed to becoming proficient in French, he was able to teach his first class in French last semester. He teaches multiple sessions of corporate finance in English and French to MBA students.
Barnea is no stranger to Canada. He received a PhD in Finance from the University of British Columbia — his dissertation was on socially responsible investing. Then he spent three years each at the University of Texas at Austin and at Southern California's Claremont McKenna College.
In 2010, his paper "Nature or Nurture: What Determines Investor Behavior?" was published in the prestigious Journal of Financial Economics; it was mentioned recently in The Economist. It was co-written with Associate Professor Henrik Cronqvist, Claremont McKenna College, and Associate Professor Stephan Siegel, University of Washington.
Using data on the complete financial portfolios of 37,504 identical and fraternal Swedish twins, the paper examined the fundamental determinants of individual investor behaviour, in particular the decision to invest in the stock market and the choice of asset allocation.
Barnea explains: "Some people have a relaxed kind of attitude toward risk, while others are risk averse. Why? Is it genetic, something we're born with, or something that we learn?" […] To read the rest of the article, see HEC Montréal Mag (Spring 2014).