Gwyneth Edwards, winner of the Governor General's Academic Gold Medal
August 12, 2014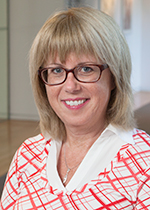 In June, Assistant Professor Gwyneth Edwards (International Business) received the most prestigious recognition awarded to graduates of Canadian educational institutions, the Governor General of Canada's Academic Gold Medal.
The Academic Medals were created in 1873 by Lord Dufferin, Canada's third Governor General, to encourage academic excellence across the nation. They are awarded at four distinct levels: bronze (one at the secondary school level and one at the college level), silver (undergraduate level) and gold (graduate level).
Professor Edwards, who joined HEC Montréal in June 2013, holds a PhD and an MBA from Concordia University. She is a member of the Research Ethics Committee and specializes in international management strategies, strategic processes and practices and the trajectory of firms, as well as knowledge transfer in multinationals. She was also selected in July 2014 as a finalist for the Grigor McClelland Dissertation Award, a competition held by the Journal of Management Studies (JMS) and the Society for the Advancement of Management Studies.