Top HEC Montréal research and teaching awards go to Ann Langley and Michel Vézina
November 27, 2014
Every year, HEC Montréal holds an award ceremony to salute the work and excellence of its faculty. Two of these distinctions – the Jean Guertin Award and the Pierre Laurin Award – crown the particularly noteworthy careers of individuals who have gained their peers' highest respect. This year, the Jean Guertin and Pierre Laurin awards went to Michel Vézina and Ann Langley, respectively.
Michel Vézina, winner of the Jean Guertin Award
Full Professor Michel Vézina (Accounting) is recognized in the accounting community for his unique teaching approach. His many accomplishments include his excellent classroom performance, his support for students and the numerous courses he has created. These courses have not only made a significant contribution to teaching quality at HEC Montréal, but have also garnered high praise outside the School.
He enjoys teaching and devotes all the necessary time and energy. He is constantly on the lookout for new ways to engage students, and is also known for his exceptional collaboration with his colleagues. His teaching at the School stands out not only because of the variety of courses he teaches, but also because of his commitment to professional teaching in Executive Education.
Professor Vézina, FCPA, CA, CA•TI (MSc 1989), holds a PhD in Administration (DSc 1995) from Université Montpellier II (France). He began as a faculty lecturer at HEC Montréal in 1985, and advanced to the rank of Associate Professor by 1997 and Full Professor by 2003. He was also the Director and Editor-in-Chief of the international Gestion magazine from 2001 to 2006, and Director of the Department of Accounting Studies from June 2009 to 2012. In 2012 and 2013, he served as Academic Supervisor for the Specialized Graduate Diploma (DESS) in Public Accounting program and was responsible for developing the DESS in Professional Accounting – CPA after the two accounting orders were merged. Since June 2013 he has been the Academic Director for certificate programs.
Named a CPA Fellow in 2014, Professor Vézina has written numerous books and case studies and won many other awards, including the 2013 L.S. Rosen Outstanding Educator Award and the 2014 CPA Award of Excellence – Education. He also won the Canadian Academic Accounting Association (CAAA) case study competition in 2012 and 2014. As co-author, he shared an honourable mention for the 2010 Alan Blizzard Award from the Society for Teaching and Learning in Higher Education and in 2007 took first place in the CAAA case study competition and won the best case award from the Association francophone de comptabilité.
Ann Langley, winner of the Pierre Laurin Award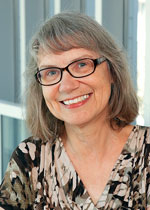 In the fields of strategy and organizational theory, Full Professor Ann Langley (Management) stands out for both the quantity and quality of her publications. She has published a large number of A and A+ scientific papers, according to School's research excellence recognition policy, not to mention the remarkable number of citations of her papers. In fact, 16 of her papers have been published in journals on the Financial Times' list, and one has racked up more than 2,400 citations.
Professor Langley joined the HEC Montréal faculty in 2000, after teaching for 15 years at the Université du Québec à Montréal, and directed the MSc and PhD programs from 2003 to 2006. She has held the Canada Research Chair in Strategic Management in Pluralistic Settings since 2008, and has made a significant contribution to scientific training for graduate management students at HEC Montréal and around the world. She has directed or co-directed some 38 dissertations and theses, and also served as an external examiner for some thirty PhD candidates. In recent years, all these research activities have earned her a dozen awards and distinctions. In 2007, in fact, she tied for the Medal for Teaching Excellence of the Conférence internationale des dirigeants des institutions d'enseignement supérieur et de recherche de gestion d'expression française.
Professor Langley's expertise is recognized internationally, and she has been a guest professor in the United Kingdom, Norway, France, Switzerland and Brazil, and has forged valuable links with colleagues at many universities worldwide. She was inducted into the Royal Society of Canada in 2010. She holds a Master's in Operational Research from the University of Lancaster, in the UK, and a PhD in Administration from HEC Montréal, and in 2011 received an honorary PhD from the Norwegian School of Economics and Business Administration.
Along with Linda Rouleau, she co-directs the Strategy as Practice Study Group. She specializes in strategic processes and practices, organizational management in the health field, decision making and innovation. For more information on the interests of this world-calibre researcher, see http://youtu.be/9GelQFceJOM.