François Bellavance, king of the road
July 10, 2013
by David Pye
François Bellavance never dreamed that an education in statistics would lead him to become one of Canada's main researchers in road safety issues. Nevertheless, the Professor in the Department of Management Sciences has become intimately involved in statistical research as a member of the Interuniversity Research Centre on Enterprise Networks, Logistics and Transportation (CIRRELT). He is also a member of the Group for Research in Decision Analysis (GERAD) and sits on the Board of Directors of the Canadian Association of Road Safety Professionals.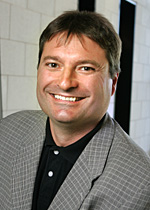 "Statistics has always been my passion and I continue to conduct research aimed at developing new analysis methods, but I've become involved in numerous projects pertaining to road safety issues at HEC Montréal," he says.
After joining the School in 1998, Bellavance was immediately inducted into the world of transportation safety by colleagues who felt that his expertise was the perfect complement to the research being conducted. He's been looking into the most pressing road safety questions ever since, including cellphone usage in cars, an issue that garnered attention from the Société de l'assurance automobile du Québec (SAAQ).
"In those days, cellphones were expensive, so our target group consisted of affluent businesspeople," notes Bellavance. "We received 12,000 completed surveys from cellphone owners who also granted us access to their phone records."
Comparing cellphone records with accident reports, Bellavance and his colleagues found that frequent cellphone users were two to three times more likely to be involved in accidents. In 2005, the newly formed Table québécoise de la sécurité routière revisited the issue and submitted a series of recommendations in 2007.
"Research showed no distinction between handheld and hands-free usage, so we recommended both be banned," he recalls. "A decision was made to ban only handheld, but that doesn't suggest that hands-free usage is any safer."
In 2010, Bellavance was appointed Director of the Réseau de recherche en sécurité routière du Québec, a think-tank encompassing more than 30 multidisciplinary researchers from Quebec universities. Jointly funded by the Fonds de recherche du Québec in partnership with Transports Québec (MTQ) and the SAAQ, the group bridges the gap between road safety issues and organizations and researchers focused on solutions.
Bellavance's research also caught the eye of the Commission de la santé et de la sécurité du travail (CSST), which teamed up with the IRSST, Quebec's occupational safety research institute, to fund research by a graduate student in the MSc Business Intelligence option. Workplace road safety studies reveal that up to 30% of workplace deaths result from road accidents, providing government agencies with the statistical analysis they previously lacked.
"We matched accident report data from the SAAQ for more than 8,000 cases where workers were compensated by the CSST as victims of road crashes between 2000 and 2008," he explains. "We then characterized the circumstances surrounding those incidents and found, for example, that 500 cases involved pedestrians, many of them injured in parking lots."
Bellavance is also researching the effects of introducing simulators as part of driving school curricula, hoping to disprove previous findings suggesting that driving school enrolment has little effect on the number of accidents.
"The crash rate for drivers aged 17-20 is much higher, due in part to inexperience, but simulators present a variety of scenarios that can better prepare them," he explains. "In 15 hours, drivers have very few opportunities to actually merge onto highways, but in a simulator you can repeat the exercise numerous times under different conditions in 20 minutes."
The project has attracted interest from the SAAQ, which will allow young drivers enrolled at three Quebec driving schools to spend up to six hours of their curriculum in simulators, enabling instructors to review performances and repeat exercises without the risk of accidents.
"We'll follow their progress for three years and will have access to their driving records," explains Bellavance. "Then we'll compare the results with a group who didn't have access to a simulator to see if it's a useful exercise."
Bellavance is also collaborating with Jean-Charles Chebat, Chair of Commercial Space and Customer Service Management, to look at the effects of creative marketing campaigns aimed at young drivers. His collective efforts continue to find ways to protect drivers of all ages from their own mistakes, given that 80-90% of accidents are attributable to human error.
"Road safety affects everyone, including cyclists, passengers and pedestrians," he stresses. "We need to learn how to use the road properly together and I hope my research can improve the odds of doing so."