Sylvain Lafrance invested into the Order of Canada
July 3, 2013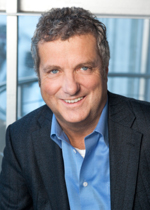 Adjunct Professor Sylvain Lafrance, Director of the Media Centre, has been made a Member of the Order of Canada, a highest distinction awarded by the Canadian government. The appointment, announced on June 28 by Governor General David Johnston, salutes his tremendous contribution to the advancement of communications and the French language.
Professor Lafrance is a well-known figure in the communications world, both at home and abroad. He had a lengthy career with Radio-Canada, the French network of the Canadian Broadcasting Corporation, where he directed all French-language radio, television and internet services from 2005 to 2011. He was a prime mover behind a number of new offerings by the public broadcaster, including the popular TOU.TV video-on-demand platform. He holds a Master's in Public Administration from ENAP, and joined the HEC Montréal team in 2012. His specialties are media management, communications and managing intangibles and creative enterprises.
The Order of Canada, one of our country's highest civilian honours, was established in 1967, during Canada's centennial year, to recognize a lifetime of outstanding achievement, dedication to community and service to the nation. The distinction has three levels, i.e. Member, Officer and Companion. Over the past 46 years, more than 5,000 people from all sectors of society have been invested into the Order.