Georges Dionne elected EGRIE President
September 25, 2013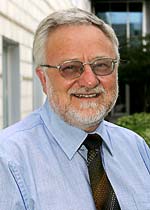 At the recent General Assembly of the
European Group of Risk and Insurance Economists
(EGRIE), held in Paris from September 16 to 18,
Georges Dionne
was elected President for 2013-2014.
EGRIE is a non-profit association dedicated to promoting research on risk and insurance. It does so mainly by organizing scientific conferences and meetings and publishing a scientific journal, the Geneva Risk and Insurance Review. The next EGRIE Annual Seminar will be held in Switzerland, in 2014. In 2015, it will be organizing a World Congress in Munich, in co-operation with the American Risk and Insurance Association and the Asia Pacific Risk and Insurance Association.
Georges Dionne is a Professor of Finance, holder of the Canada Research Chair in Risk Management and a member of the boards of directors of HEC Montréal and of SCOR Canada, part of the international SCOR group, the world's fifth-largest re-insurer.