Philémon Rakoto named a CPA, CGA Fellow
October 25, 2012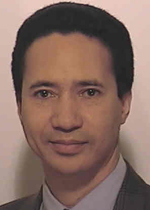 Associate Professor Philémon Rakoto (Accounting) has been made a CPA, CGA Fellow (FCPA, FCGA) by the Board of Directors of CGA-Canada, in recognition of his exemplary service to the Ordre des CGAs (Canada and Québec) and his contribution to the accounting profession and the community. Only 108 individuals have earned this title in Québec. The official ceremony will be held on November 16, at the CPA Ambassadors Gala organized by the newly merged accounting order, the Ordre des comptables professionnels agréés (CPA) du Québec. 
Professor Rakoto has over 15 years' experience in teaching financial accounting. He holds a PhD in Administration from HEC Montréal, an MSc in Accounting from the Université du Québec à Montréal and a professional Master's degree in Accounting from the Institut national des sciences comptables et d'administration d'entreprises (INSCAE) in Antananarivo, Madagascar. Before joining the HEC Montréal faculty in June 2001, he worked for six years as an auditor with various Malagasy and Canadian firms and spent five years teaching financial accounting at different universities.
He is a member of the Stephen A. Jarislowsky Chair of Governance, and specializes in corporate governance, the quality of reported accounting information, management of accounting results, measurement and presentation of intangible assets, performance of hi-tech firms and application of international accounting standards in developing countries. He also wrote the "Issues in Professional Practice PA1" CGA-Canada examination case and is a member of the review committee for the CGA-Canada "Advanced External Auditing AU2" and "Consolidation and Advanced Issues FA4" exams.