Emmanuel Raufflet wins awards from the Academy of Management for two cases
August 30, 2012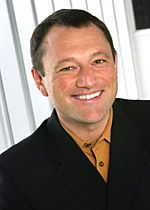 Two cases by Associate Professor Emmanuel Raufflet (Management) were winners at the Annual Meeting of the Academy of Management, in August, held in Boston this year. The Academy, founded in 1936, is the oldest and largest scholarly management association in the world, with some 20,000 members from 109 countries.
Hydro-Québec and the Crees: The Great Whale 2 Project received the best case award in the Dark Side Case-Writing Competition, Critical Management Studies section. The case is based on the documentary entitled Power, by Magnus Isacsson (National Film Board of Canada, 1996), looking at the struggle by the Cree First Nation against the Great Whale Project between 1988 and 1994. The Dark Side Case-Writing Competition, now in its 11th edition, is designed to encourage and acknowledge the development of cases that provoke reflection and debate on the "dark side" of contemporary organizations.
Crediamigo: Partnering with VivaCred?, co-authored with Frédéric Lavoie (MSc 2010), took third place in the oikos Global Case Writing Competition, social entrepreneurship track. The case evaluates the two options facing Crediamigo, a Brazilian microfinance company, in 2008, as it sought an entry strategy for the Rio de Janeiro microfinance market. It had the option of partnering with VivaCred, a small microcredit NGO in the favelas of Rio de Janeiro, or opening an independent branch in that city.
Launched in 2003 by the oikos Foundation for Economy and Ecology at Universität St. Gallen (Switzerland), the oikos Global Case Writing Competition aims to create a body of knowledge about sustainable management practices that can be used by university professors at business schools around the world.
Emmanuel Raufflet has been a professor at HEC Montréal since 2002, and also directs the Specialized Graduate Diploma in Management and Sustainable Development program. His fields of interest include corporate social and environmental responsibility. He holds a PhD and MBA from McGill University, and in 2011 won an award for teaching excellence from HEC Montréal in the associate professor, full professor or guest professor with career potential category.