Jacques Roy, member of the Aerospace Review Advisory Council
March 9, 2012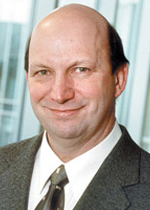 Professor Jacques Roy is one of three members of the Advisory Council formed recently to assist the Honourable David L. Emerson, who was appointed by the federal government to direct the Review of Aerospace and Space Programs and Policies. The review is intended to develop a policy framework to maximize the competitiveness of these sectors. Its findings are to be presented to Christian Paradis, Minister of Industry, by late 2012.
The review will explore how government, industry and other key stakeholders can address the key issues facing the aerospace and space sectors, such as innovation, market access and development, skills development, procurement and supplier development. According to the Aerospace Industries Association of Canada, Canada's aerospace and space industries generate annual revenues of $22 billion and employ nearly 80,000 Canadians in high-paying jobs at more than 400 firms across the country.
At HEC Montréal, Professor Jacques Roy is Director of the Department of Logistics and Operations Management and the CHAINE Research Group (supply chain's integration and environment) and of the Carrefour logistique. He is an acclaimed expert and speaker in the areas of logistics, transportation management and professional training. He is regularly invited to teach in the Aerospace MBA program offered by ESC-Toulouse. He was previously Director of Management Training and Director of Research at the Montreal-based International Aviation Management Training Institute. Prior to his academic career, he was an engineering aerospace officer with the Canadian Armed forces.