Marlei Pozzebon joins a UNESCO centre
June 7, 2012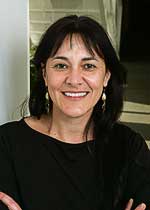 Associate Professor Marlei Pozzebon (International Business) recently joined a group of experts at the Regional Centre of Studies for the Development of the Information Society, a Brazilian centre founded in March 2012 under the auspices of UNESCO. She will be co-ordinating training in qualitative research for members of the Centre in Portuguese-speaking Africa and Latin America, as well as study groups on the impacts of information and communication technologies (ICTs) on social development in Brazil.
"I am very pleased to have been invited," says Professor Pozzebon. "The work fits perfectly with my research. For several years now I have been studying the social impact of technology and the different ways in which it is likely to transform less socially inclusive societies. It is great to have the chance to train researchers in Latin America and Portuguese-speaking Africa through the qualitative approach and to contribute to new research themes in the area of social innovation."
The Centre, established in São Paolo, Brazil, will be managed by NIC.BR/CETIC.BR (Brazilian Network Information Center/Center of Studies on Information and Communication Technologies). HEC Montréal, and in particular Professor Pozzebon, has already been working with this organization on research projects since September 2011. In addition, thanks to this collaboration, NIC.BR/CETIC.BR offers scholarships for supervised projects for MSc students.
The Regional Centre of Studies for the Development of the Information Society was created to support Latin America and Portuguese-speaking African countries with studies on the progress and impact of building inclusive knowledge societies through information and communication. This new Centre will become a centre of reference for capacity-building, research and networking of specialists in developing countries. It will develop new methods for sector studies of ICTs and data collection for creating performance indicators for ICTs in the culture, audiovisual and other fields. The Centre will shed more light on the ethical dimensions and social implications of Internet use, and will contribute to UNESCO's programs to support the creation, access, preservation and sharing of information and knowledge.