Christian Vandenberghe elected a Fellow of the Royal Society of Canada
October 6, 2011
Professor Christian Vandenberghe will officially join the Academy of Social Sciences of the Royal Society of Canada (RSC) at the induction and awards ceremony on November 26, in Ottawa. This new induction brings the number of HEC Montréal professors in the Royal Society of Canada to 14.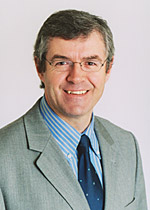 Christian Vandenberghe has won international recognition in the field of management for his research on employee commitment to the organization, its determinants and consequences. His work has shed new light on the role of targets and the many forms of commitment as vectors of employee retention and performance. He has also produced many longitudinal studies of employees in different professional fields, leading to a better understanding of the dynamic evolution of organizational commitment. In particular, he was the first to show that monitoring changes in organizational commitment over time made it possible to better predict the risk of voluntary departures by employees.
Professor Vandenberghe, originally from Belgium, joined HEC Montréal in 2003. Since 2005 he has held the Canada Research Chair in Management of Employee Commitment and Performance.
More than sixty of his articles have already been published in scientific journals, including the Journal of Applied Psychology, the Journal of Vocational Behavior, the European Journal of Work and Organizational Psychology and the Journal of Occupational and Organizational Psychology. His work has been widely cited and has greatly contributed to advancing knowledge and practices in the field of organizational behaviour.
He collaborates with researchers from around the world and is a frequently sought-after speaker, particularly in Europe and North America. His positions as a Division Editor of the Canadian Journal of Administrative Sciences / Revue canadienne des sciences de l'administration and Associate Editor of the European Journal of Work and Organizational Psychology are clear evidence of the respect and recognition Professor Vandenberghe is accorded by his peers.
Christian Vandenberghe holds a PhD in Psychology from the Université catholique de Louvain, as well as licences in psychology and in labour science, from that same university.
The Royal Society of Canada
The Royal Society of Canada consists of nearly 2,000 Fellows, men and women who are selected by their peers for their outstanding contributions. It brings together the leading researchers from 95 Canadian universities.
There are three Academies of the RSC: the Academy of the Arts and Humanities, the Academy of Science and the Academy of Social Sciences. The latter academy consists of an Anglophone division (maximum of ten new members per year) and a Francophone division (maximum of five new members per year), for all disciplines in the social sciences: administration and management, anthropology, criminology, demographics, law, economics, education, geography, history, journalism, psychology, industrial relations, political science, sociology and social work.