Georges Dionne Appointed President Elect of the Canadian Economics Association
June 9, 2011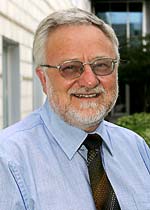 At the last annual general meeting of the Canadian Economics Association, members appointed Georges Dionne as President Elect and Conference Organizer for 2011-2012.
The Canadian Economics Association has more than 1,400 members. Its purpose is to promote economic knowledge by encouraging study and research on all aspects of economics. The Association publishes two journals: Canadian Journal of Economics/Revue canadienne d'économique and Canadian Public Policy/Analyse de politiques. The Association does not take partisan positions on practical politics or commit its members to any positions. More than 800 participants from around the world attend its annual meeting. The next meeting will be held at the University of Calgary in June 2012.
Georges Dionne is Professor of Finance and holds the Canada Research Chair in Risk Management. He is a member of HEC Montréal's Board of Directors and Editor of the Journal of Risk and Insurance.