The International Office – Europe (BIE) marks its 20th anniversary
20 years of promoting the School in Europe
From Monday March 14 to Thursday June 02, 2022
HEC Montréal has had a presence in Europe for 20 years now, largely thanks to its International Office – Europe (BIE). Its missions include:
Promoting all the School's programs and recruiting future students
Developing and maintaining long-lasting relationships with many companies, over 80 partner universities and many other institutional and government stakeholders
Helping find internships and jobs in Europe
Organizing activities for some 10,000 alumni based in Europe
The BIE team works in co-operation with over 20 of the School's departments, services, offices and other units: the International Relations and Partnerships Office, the HEC Montréal Foundation and Alumni Relations Office, the Office of Communications and Government Relations, the Office of Sustainable Development and many others.
It promotes the excellence of Canada's largest international exchange program and the variety of dual-degree programs with several prestigious universities and schools, many of them in Europe:emlyon business school
emlyon business school
ESCP Business School
Lancaster University Management School
Norwegian School of Economics and Business Administration
SKEMA Business School
Bocconi University
On December 7, 2021, for the first time, a two-way hybrid-format discussion was held between next-generation alumni in Montréal and Paris on the topic of lasting inspirations.
promoting the school
Future students
Alumni
Businesses
Academic, institutional and government partners

a unique vision
Did you know that HEC Montréal is the only Canadian university to have had an office in Europe for 20 years?
The background to this bold choice will be presented during the different activities planned for 2022.
Listen to some HEC Montréal graduates
Stay tuned! Exclusive testimonials will be available in June in the Alumni and Donor Stories section.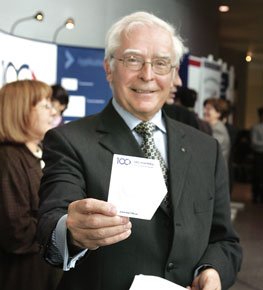 Jean-Marie Toulouse, Professor Emeritus and former Director of HEC Montréal (1995-2006), helped promote the School as a French-language institution internationally and especially in Europe.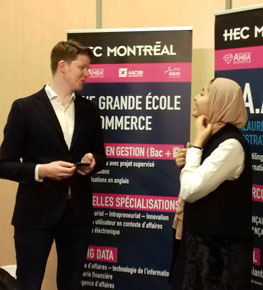 Two alumni chatting at an event on studying abroad, in Paris, in 2018.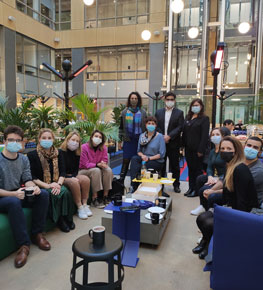 An alumni breakfast in November 2021 at the BIE offices, attended by Marie-Hélène Jobin, Director, International Relations and Partnerships.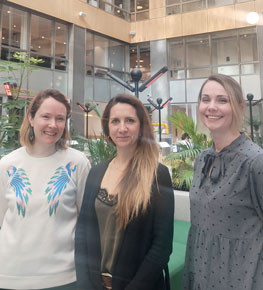 BIE Director Faustine Chevet, flanked by colleagues Catherine Turban and Élodie Guéneau.
Activities – spring 2022
April 5 at 12:30: online lunchtime lecture for staff and faculty
Between March and June: highlights of the BIE's 20 years, on social media – LinkedIn, Facebook and Instagram
alumni activities – Europe
Between March and May: networking activities in Europe highlighting the BIE's 20 years
June 2: celebration of the 20th anniversary of the HEC Montréal International Office – Europe (BIE) in Paris, attended by School management
June: new testimonials in the Alumni and Donor Stories section
---
Contact us