"The construction of the new HEC Montréal building has been planned with great care to create an environment that is stimulating, welcoming and open to the entire community. We will be taking the same degree of care to produce a green and timeless building that will fit seamlessly into its surroundings."
– Loretta Cianci, Director, Campus Development
A project consistent with HEC Montréal's image
HEC Montréal wants this new building to reflect the principles that have earned it a spot as one of the world's leading business schools.
This commitment is visible in three key respects: modernity, functionality and sustainability.
View of the architectural concept for the new HEC Montréal building
A new space in the downtown business district
The new building is in response to a lack of space, which has major repercussions on the activities of HEC Montréal. Indeed, since it opened its building on Chemin de la Côte-Sainte-Catherine in 1996, the School has seen the following increases:
+ 64% students
+ 68% employees
+ 242% research chairs and centres
+ 108% training activities for executives and professionals
The building will be erected on the part of the site adjacent to Saint Patrick's Basilica, between Côte du Beaver Hall and Rue Saint-Alexandre.
A contemporary architectural concept
The building designed by Provencher Roy Associés Architectes Inc. is intended to fit seamlessly into its built and natural environment.
Three overarching themes have guided the project's development:
Dynamic – a contemporary look in terms of its location, volumes and materials.
Light – a building that blends into the urban fabric, juxtaposing the lightness of the new structure and the bulk of the older surrounding buildings.
Respectful – acknowledging the protected heritage areas and conversing with its surroundings, its façades and angles offer sightlines from Rue De La Gauchetière and Côte du Beaver Hall.
A tribute to the past
Out of respect for the cultural significance of the site, HEC Montréal will permanently commemorate the space occupied by St. Bridget's Refuge, which marked the history of Montréal's Irish community:
Retracing the foundations of St. Bridget's Refuge on the ground, both in and outside the building, and partially rebuilding its exterior walls in their original location
Commemorative plaques in and outside the building
An accessible and welcoming place
Great care will be taken to create harmony between HEC Montréal's new sites and the Basilica. Additional landscaping with no barriers between the two properties will transform the block into a public space that is welcoming, safe and open to the Montréal community.
The library, common areas, cafeteria, indoor garden and rooftop terrace on the 8th floor of the building will be brightly-lit spaces accessible to all.
Two works of modern art
The new sites will showcase two public works of art created by internationally renowned Quebec artists, in keeping with the policy set out by Québec's Ministère de la Culture et des Communications on the integration of art into architecture and environment.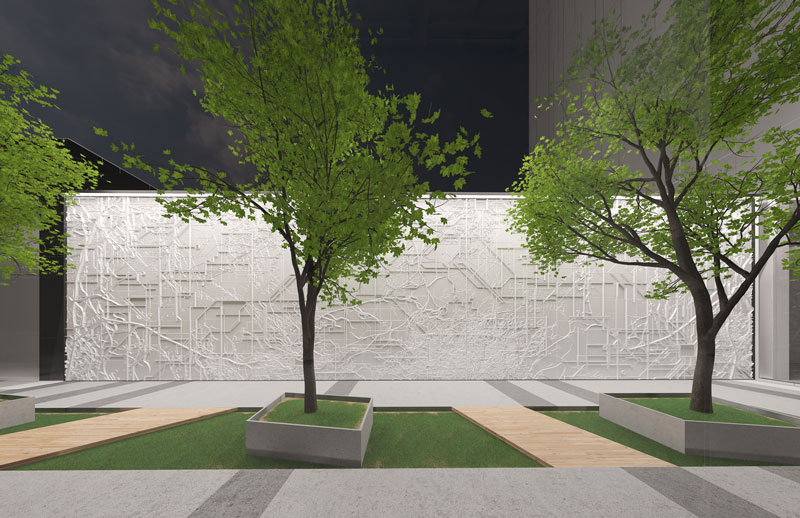 Mappemonde
, by Nicolas Baier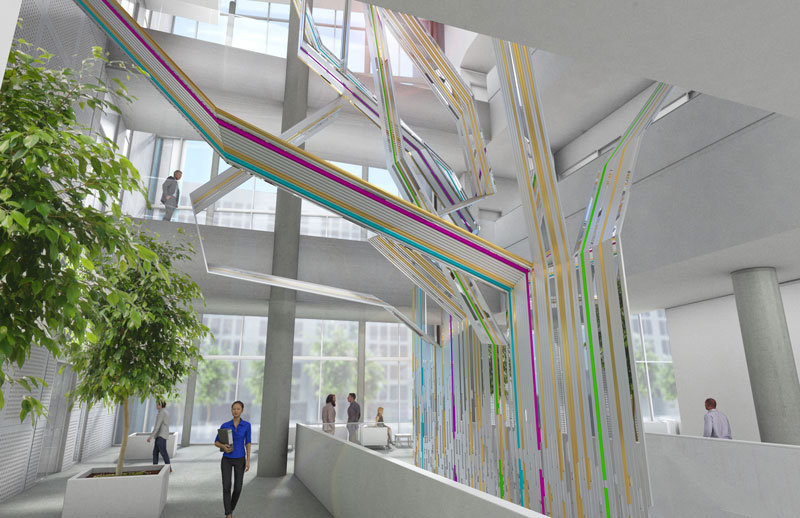 Théâtralité contextuelle
, by Ludovic Boney
Public transit and active transportation
The site is just a few minutes' walk from the main office buildings downtown. It is served by several public transit and active transportation routes:
Square-Victoria – OACI metro station
Central Station
Numerous bus stops
Several BIXI stations and indoor and outdoor bike racks
The future metropolitan electric network (REM)
Aiming for LEED Gold certification
The proposed building has been registered with the Canada Green Building Council, and is aiming for LEED Gold certification.
LEED certification is granted to "green buildings." It is a way of enhancing the well-being of building occupants and improving a building's environmental and economic performance by way of proven and innovative practices, standards and technologies.
Green roofs, geothermal wells, landscaping that promotes biodiversity, tree transplantation, and mobility-friendly measures are just some of the concrete steps we will be taking to ensure that this new building is environmentally sound and LEED worthy. Replacing the current outdoor parking lot with indoor public parking is another significant measure and will eliminate a large heat island. The new indoor parking lot will be equipped with charging stations for electric vehicles.
Planned project timeline
Steps completed
| | |
| --- | --- |
| Business plan* | |
| Preparation | Fall 2016 to fall 2017 |
| Approval by Cabinet | Spring 2018 |
| Analysis and preparatory work | Summer 2017 to fall 2018 |
| Preparation of final plans and specifications | Winter 2018 to summer 2018 |
| Construction | |
| Call for tenders | Fall 2018 |
Next steps
| | |
| --- | --- |
| Work | Summer 2019 to spring 2022 |
| Opening | Fall 2022 |
*Calls for tenders for architects, engineers, consultants, architectural concept and preliminary sketches, plans and specifications.