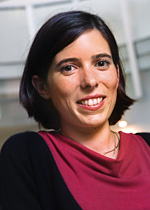 Contact information
HEC Montréal
3000, chemin de la Côte-Sainte-Catherine
Montréal (Québec)
Canada H3T 2A7
Email:
Phone:
Secretary:
Fax:
514 340-5633
Office:
5.368
Education
D. Sc. (gestion) HEC Paris
D.E.A., Université Paris 1 - Panthéon - Sorbonne
Majeure Information Finance Audit Conseil, HEC Paris
D.E.C.F.
D.E.S.C.F.
This publication selection covers the last five years.
SIROIS, Louis-Philippe, MARMOUSEZ, Sophie, SIMUNIC, Dan A.;
« Proposition d'une nouvelle approche de la relation entre la taille de l'auditeur et la qualité de l'audit : l'importance de la technologie d'audit »
, Comptabilité-Contrôle-Audit, vol. 22, no 3, 2016, p. 111-144.
ANDRÉ, Paul, FILIP, Andrei, MARMOUSEZ, Sophie; « L'impact des normes IFRS sur la relation entre le conservatisme et l'efficacité des politiques d'investissements - The Impact of IFRS on the Relationship Between Conservatism and Investment Efficiency », Comptabilité-Contrôle-Audit, Tome 20, vol. 3, Décembre 2014, p. 101-124.
LABELLE, Réal, MARMOUSEZ, Sophie, VIDAL, Jean-Pierre, WEGENER, Matthew
Best paper Award in Accounting, pour leur article intitulé «Ethics and tax aggressiveness», Annual Tokyo Business Research Conference, 9-10 novembre 2015
MARMOUSEZ, Sophie
Prix du meilleur article publié en 2012 dans la revue Comptabilité-Contrôle-Audit, intitulé: «Étude d'une exception française: les déterminants du choix de la composition du collège de commissaires aux comptes», Association francophone de comptabilité
+
M.Sc. in Administration Theses (1)
DI VITO, Jacqueline, BOZEC, Yves, MARMOUSEZ, Sophie, RAKOTO, Philémon
(Codirecteur, Codirecteur, Lecteur/trice prés. rapp., Lecteur/trice)
Does the mandatory adoption of IFRS in Canada improve the quality of financial reporting for companies characterized by controlling minority shareholders structures?, by Soukaina Mahfoud
Janvier 2015

Winter 2018
Fall 2017
Winter 2016