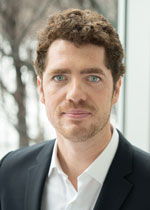 Contact information
HEC Montréal
3000, chemin de la Côte-Sainte-Catherine
Montréal (Québec)
Canada H3T 2A7
Email:
Phone:
ext. 3191
Secretary:
Fax:
514 340-5635
Office:
5.242
Education
M. Sc. (management), HEC Montréal
Doctorat (socio-économie de l'innovation), École nationale supérieure des mines de Paris
This publication selection covers the last five years.
BOURGOIN, Alaric, MUNIESA, Fabian;
« Building a Rock-Solid Slide: Management Consulting, PowerPoint, and the Craft of Signification »
, Management Communication Quarterly, vol. 30, no 3, 2016, p. 390-410.
BOURGOIN, Alaric; Les Équilibristes - Une ethnographie du conseil en management, Presses des Mines, 2015.
BOURGOIN, Alaric; « Les Petites Cases », Le management (manuel et guide de l'étudiant), JFD Éditions, 2015.
BOURGOIN, Alaric
EGOS CCO Division Best Paper Award, pour l'article « The performance of authority in organizations », European Group for Organizational Studies (EGOS), 2015
HARVEY, Jean-François, BOURGOIN, Alaric
Prix du meilleur article pour : «Expertise-as-Performance: Dealing with the Learning-Credibility Tension in Management Consulting», Academy of Management, août 2015
BOURGOIN, Alaric
Prix Outstanding Field Report Award, Management consulting Division, pour la présentation : «The Performance of Authority in Organizations: An Example from Management Consulting», Academy of Management Annual Conference, août 2013
+
M.Sc. in Administration Supervised Projects (3)
GHADIRI, Djahanchah Philip, TESSIER, Sophie, BOURGOIN, Alaric
(Directeur/trice, Codirecteur, Lecteur/trice)
Démarche d'une intervention en comptabilité stratégique et gestion de la performance d'une entreprise manufacturière familiale dans le secteur des uniformes, by Kenza El Baroudi
Mars 2016


MAILHOT, Chantale, BOURGOIN, Alaric
(Directeur/trice, Lecteur/trice)
Analyse et proposition de modèle d'affaires pour UniConsultants, entreprise de consultation montréalaise, by Luc Ballot
Septembre 2015


JOHNSON, Kevin, BOURGOIN, Alaric
(Directeur/trice, Lecteur/trice)
La gestion du changement dans l'organisation du travail du département d'hygiène et salubrité de l'Institut universitaire de gériatrie de Montréal, by Dominique Lefebvre
Janvier 2016

+
M.Sc. in Administration Theses (1)
GHADIRI, Djahanchah Philip, PEZET, Anne, BOURGOIN, Alaric
(Directeur/trice, Lecteur/trice prés. rapp., Lecteur/trice)
Les écarts entre l'idéal et la réalité: Une analyse des représentations d'un consultant, by Caroline Phan
Mai 2015

Winter 2018
Fall 2017
Winter 2017
Winter 2016